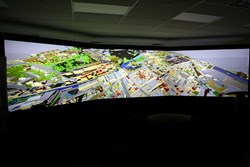 They are the ideal solution for immersive simulation displays.
Kitchener, Ontario (PRWEB) February 20, 2014
One of Canada's largest and most diverse colleges, Toronto's George Brown College, chose Christie's visualization solutions for its Building Information Modeling (BIM) Lab in the Centre for Construction and Engineering Technologies (CCET), at the Casa Loma campus. Students, industry professionals and business partners can use the BIM Lab to create digital 3D models and view them on a custom Christie-designed display solution, powered by three 120Hz stereoscopic 3D DLP® Christie Mirage WU7K-M projectors. The new immersive simulation space supports the College's mission for continued innovation, enhanced practical and theoretical teaching and learning, as well as staying ahead of trends and technology in the construction industry.
BIM is a global term referring to a technology process where collaboration and knowledge sharing takes place, but when the creation of a simulated virtual reality exists, stakeholders can visualize facilities, operational issues, designs and construction. George Brown College understands that using the latest technology can facilitate learning and prepare their students for the future. Clint Kissoon, chair of CCET's School of Architectural Studies and the Angelo Del Zotto Construction Management, said After detailed benchmarking, several meetings and seeing firsthand the Christie CAVE™ installed at Pennsylvania State University, we knew that a BIM lab was the way of the future, and that the Christie solution was the direction we wanted to take to create a fully immersive environment that would advance skills today and in the future and fill a skills gap in the construction industry.
Kissoon, added: Christie's proposal came in within scope, budget and procedural requirements to enable us to conform to the Federal Economic Development Agency's procurement processes to receive the grant for the project. The help we got from Christie really put us in the position to get what we wanted.
Christie's advanced stereoscopic Mirage WU7K-M projector, with WUXGA resolution at 6,300 ANSI lumens from dual lamps delivers crisp images, vibrant colours, uniform brightness, and with Christie Twist™ the user can control warping and blending so that the image fits any dimension or shape. "The Christie Mirage M series projectors are compact, highly efficient, and provide a low cost of ownership," said Zoran Veselic, vice president of Visual Environments, at Christie.
"They are the ideal solution for immersive simulation displays like George Brown College's BIM Lab and other post-secondary institutions that are considering an enhanced learning and training environment through 3D visualization. "
Thought to be a first of its kind at a community college or university in Canada, the state-of-the-art facility provides learning opportunities that will cover all aspects of virtual design and construction from project procurement to building processes and facility management. According to Pietro Ferrari, professor and coordinator, School of Architectural Studies at George Brown College, "What we've done with this screen in the BIM Lab is to position GBC to offer a program of BIM-related courses, including a post-graduate BIM Certificate program, that's extremely deep; much more extensive than what other institutions are offering across Canada. "
About Christie®
Christie Digital Systems USA, Inc., a wholly owned subsidiary of USHIO, Inc., Japan, is a leader in visual solutions for world-class organizations, offering diverse applications for business, entertainment, and industry. A leading innovator in film projection since 1929 and a pioneer in digital projection systems since 1979, Christie has an established reputation as a total service provider and the world's single source manufacturer of a variety of display technologies and solutions. With the acquisition of Vista Controls Systems, Corp., Christie offers the most complete and advanced solutions for cinema, live venues, control rooms, business presentations, training facilities, 3D and Virtual Reality, simulation and education as well as industrial and government environments. For more information, visit http://www.christiedigital.com.
For more information contact:
Carmen Robert, Christie
(519) 572-5824
carmen.Robert(at)christiedigital(dot)com
Follow Christie:
Facebook.com/christiedigital
Twitter.com/christiedigital
"Christie" is a trademark of Christie Digital Systems USA, Inc., registered in the United States of America and certain other countries.
DLP® is a registered trademark of Texas Instruments