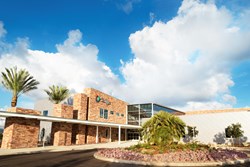 'APT believes in developing proton therapy centers that deliver the best technology and ultimately the best care to patients,' says APT CEO, Jeff Bordok.
San Diego (PRWEB) February 19, 2014
Advanced Particle Therapy, LLC. (APT) celebrated the grand opening of the Scripps Proton Therapy Center in San Diego, Calif. today. The $220 million, state-of-the-art facility has already begun treating cancer patients with the most advanced form of radiation therapy available – proton therapy.
Proton therapy uses accelerated particles (protons) to precisely treat cancerous tumors throughout the body. Proton therapy is more precise than conventional forms of radiation treatment, delivering an exact, high dose of radiation to a tumor site while sparing surrounding healthy tissue and organs from damage. This sparing of healthy tissue means patients are better able to tolerate the highest doses of radiation and help avoid treatment-related secondary cancers and chronic diseases.
Scripps Proton Therapy Center will be operated by Scripps Health and Scripps Clinic Medical Group whose physician and physicist team bring more than 90 years of combined proton experience. The center is the nation's 15th proton facility and will be the first in the country to treat patients exclusively with the ultra-accurate "pencil-beam scanning" technology.
"Pencil-beam scanning allows doctors to treat larger and more complicated tumors, while sparing more normal tissue and producing about one-tenth as many carcinogenic neutrons," said Carl Rossi, M.D., the center's medical director. "We're essentially breaking down each tumor into thousands of tiny cubes, and then 'painting' each individual cube with radiation, layer by layer."
The ProBeam proton therapy system manufactured by Varian Medical Systems will also be installed in APT's three other proton centers currently in development.
"APT believes in developing proton therapy centers that deliver the best technology and ultimately the best care to patients," says APT CEO, Jeff Bordok. "We are so pleased to see the Center come from just a vision to a world-class healthcare facility operated by a partner as outstanding as Scripps."
In addition to the Scripps and Varian relationships, APT also worked closely with project management firm Signet Development and general contractor and design/engineer Haskell. Haskell was recently recognized by Engineering News-Record (ENR) California for a Best Projects Award of Merit for the Center's design.
The 102,000 square foot center is not only an important resource for patients seeking this life-saving treatment, but a regional resource and economic driver. In an affiliation agreement announced today, physicians from Rady Children's Hospital-San Diego and UC San Diego Health System, will be able to treat their patients to the center as well.
The construction of the facility generated hundreds of jobs and once fully operational, will employ full-time physicians and staff. Patients visiting the center from around the world during their four-to eight-week treatment are also anticipated to provide an economic benefit to the local economy.
APT anticipates similar positive impacts with their other investor-owned centers. The projects currently underway include:

About APT
Advanced Particle Therapy (APT) develops and manages leading-edge proton therapy centers that deliver exceptional cancer treatment to patients. APT provides a fully integrated solution for the development of proton treatment centers for leading academic medical institutions as well as premier regional healthcare systems. APT serves as the project's developer and provides a turnkey solution to the highly complex task of successfully developing, designing, constructing, overseeing and managing a particle therapy treatment center.
For more information, visit http://www.advancedparticletherapy.com.