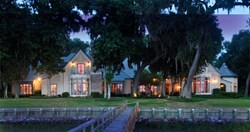 Luxury Home in Coastal South Carolina on the Market!
Hilton Head, South Carolina (PRWEB) February 19, 2014
There is no bluffing about the beauty of Bluffton, South Carolina. Between the dazzling luxury Bluffton homes and the private deepwater docks on the Colleton River, this Lowcountry region is ideal for relocating families and retirees seeking to escape the big cities and harsh winters. The Lowcountry is filled with decades of American history. New luxury Bluffton homes add more intentional beauty to the already spirited community. The first step to becoming a resident of this wonderful place is to discover what Bluffton has to offer. The local coastal South Carolina real estate advisors at Gateway Realty can help with the process and have in depth information available about private gated communities and Bluffton estate properties in the area.
Colleton River Plantation in Bluffton is a classic example of where to find luxury waterfront estates. One of the most coveted properties has just come onto the market and is attracting attention from near and far. The $12.6 Million Seven Oaks Estate property rests on 500 ft. of shoreline scenery and features more than nine acres of pristine Live Oak and Magnolia landscapes. The estate ensures complete privacy and includes gorgeous freshwater pond. The Seven Oaks Estate topography reflects the natural look of the Old South, while the European architecture impresses guests from the moment they step foot on the property.
Virtual tour: Seven Oaks Estate
The front gate entrance was constructed in Romania and is unlike any Bluffton luxury homes. Mini cameras were installed at these gates and provide additional security throughout the house and grounds. Unlike other estates with private deepwater dockage on the Colleton River, The Seven Oaks Estate includes custom windows and glass doors from the Hope Company of New York and are valued at approximately $500,000. Other features of this home that are wowing coastal South Carolina real estate advisors include: the gold Baccarat chandelier, three chandeliers originally owned by Henry Ford, two climate controlled garage parking spots and three others, nine inside fireplaces and one outdoor, English Garden, Chinese silk, hand-painted wallpaper and much more.
The Seven Oaks Estate provides an advanced HVAC system that is powerful enough to maintain a commercial property. The stone flooring was imported from France and Italy, while the stone and wood mantels were hand carved to add more elegance to the already stunning decor. With multiple kitchens and state of the art appliances, The Seven Oaks Estate is equipped to host incredible social events and has inspired custom home builders specializing in building Bluffton luxury homes.
This Lowcountry estate is one of many properties attracting affluent families to Bluffton South Carolina. Properties with private deepwater dockage at Colleton River Plantation are in high demand. The combination of award winning golf courses, scenic marsh landscapes and colorful sunsets provide an American dream come true.
About Real Estate Scorecard:
Real Estate Scorecard writes unbiased real estate reviews providing in-depth information about popular gated communities in Florida, Georgia, North Carolina, South Carolina and Tennessee, all in an effort to help people discover where to retire in the Southeast.
Website: http://realestatescorecard.com