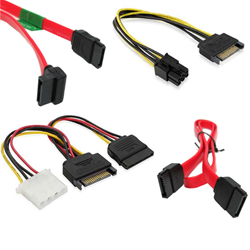 Our designed Serial ATA products are easy to install, route, and use.
Hayward, CA (PRWEB) February 24, 2014
SF Cable, an established leader in network cables and accessories, has officially announced the release of feature-rich SATA products. Bringing variety in its Serial ATA cable collection, the company lets its consumers get the most out of their storage devices. These Serial Advanced Technology Attachments signify enhanced system efficiency, superior performance, and reduced development expenses.
The SATA cables developed by SF Cable can support high data transfer rates. While discussing the details of Serial ATA products, the company's representative said, "Serial ATA has become a superior alternative to Parallel ATA because of its dynamic features and usability. Since SATA involves a 7-pin data connector, it has minimal electromagnetic interference and crosstalk. These flexible and thin SATA cables have become a necessity for laptops, desktop computers, and other applications. They have low-voltage signaling features that have significantly reduced the electronic systems' cooling and power needs."
SF Cable claims to design strong, thin Serial ATA cables. These cables don't induce heat or block airflow when they are connected to disk drives. "We ensure our consumers can set up their SATA products easily to obtain stable, better-performing hardware systems," the company representative clarified.
Offering numerous length options, the company's Serial ATA cable collection is frequently upgraded to meet consumer needs. "We know consumers look for simple, cost-effective, and lasting technological options. They prefer SATA cables because they are longer and thinner than conventional parallel ATA products. Our designed Serial ATA products are easy to install, route, and use. We ensure they don't consume too much space on disk drives and motherboards," the spokesperson further elaborated.
SF Cable claims to offer an extensive range of Serial ATA cables at reasonable prices. These cables are designed for varied consumer applications and systems. To learn about the features and benefits of these cables, please visit http://www.sfcable.com/search.html?q=sata#/?_=1&filter.type=Cable&page=1.
About SF Cable
SF Cable is a leading wholesale distributor of quality products, including computer cables, home theater equipment, laptops, and security products. Rendering valuable services since 2002, SF Cable has been serving as a one-stop shop for premium cables and accessories at wholesale prices. The company is trusted for its superior solutions, supreme services, varied offerings, and prompt customer services. Featuring over 8000 SKUs of components, accessories, and cables for consumer electronics and computer systems, SF Cable is known to support all its cables and non-electronic products with exclusive lifetime warranties.
SF Cable maintains a huge volume of inventory. This helps the company ship almost all orders received by 4:30PM PST the same day. Also, SF Cable doesn't demand any minimum and restocking charges.
Contact Details
SF Cable, Inc.
28300 Industrial Boulevard, Suite F
Hayward, CA 94545-4439
Toll-Free: 888-275-8755
Local: 510-264-9988
Fax: 510-264-9989