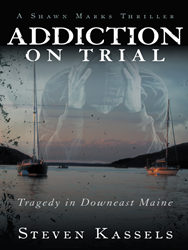 Boston, MA (PRWEB) February 24, 2014
"Addiction on Trial: Tragedy in Downeast Maine" by Steven Kassels is a unique medical murder mystery legal thriller that entertains audiences and educates readers through the realistic depiction of the struggles of addiction.
The book dissects our societal discrimination toward drug addicts and explores common misperceptions of what addiction really is – a chronic illness requiring a similar treatment approach as other chronic diseases.
The medical topics unfold while the reader is exposed to a riveting murder trial and the adventures of Shawn Marks, the egotistical but likeable Boston big shot attorney, who juggles an array of female companions without taking his eye off the legal challenges of his work.
The book exposes the real challenges of addicts and their families through a trio of characters who are drug dependent on heroin and cocaine as well as a father who is consumed by alcoholism.
Kassels hopes the book will help to clearly define the disease of addiction as an equal opportunity illness that has no socio-economic barriers.
"Addiction on Trial" combines Dr. Kassels's professional experiences with current events by delivering its messages in a non-scientific, approachable way in hopes of changing hearts and minds of how best to approach the scourge of addiction.
"Addiction on Trial" by Steven Kassels
Hardcover: 978-1-4918-2531-0, $26.09
Softcover: 978-1-4918-2532-7, $13.46
E-Book: 978-1-49182-530-3, $3.99
Available at amazon.com, barnesandnoble.com, authorhouse.com, StevenKassels.com
About the author
Dr. Steven Kassels is an author and physician who has been board certified in Addiction Medicine and Emergency Medicine. A graduate of Milton Academy and Lake Forest College, he received his medical degree from Wayne State University School of Medicine in Detroit, Michigan. He has served as chief of Emergency Medicine at an inner city hospital and currently serves as the medical director and founder of Community Substance Abuse Centers. Dr. Kassels is a member of the American Society of Addiction Medicine and has presented numerous lectures and round table discussions on drug abuse related topics. Dr. Kassels currently resides in Boston, Massachusetts and Downeast Maine.
# # #