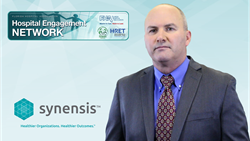 Fayetteville, GA (PRWEB) February 19, 2014
Synensis will be presenting at the upcoming Leadership Academy for Patient Safety hosted by the Florida Hospital Association on March 7th at their regional offices in Orlando, Florida. This evidence-based, highly interactive and collaborative 1-day workshop addresses patient safety challenges healthcare leaders face daily. This leadership activity is part of the Center for Medicare and Medicaid Services Partnership for Patients (PfP) Initiative aimed at reducing preventable patient harm across the board by 40%. Synensis has served over 200 hospitals since 2012 as part of the PfP Hospital Engagement Network.
Participants will learn new tools, strategies and methods to easily implement rapid cycle improvement thereby improving safety culture, accountability, teamwork, communication, and physician engagement in their respective organizations. Coaching sessions will be conducted following the workshop to support implementation and organizational improvement goals.
Nationally and internationally recognized patient safety and experience faculty includes Synensis CEO and President Stephen M. Powell, MS and Synensis Chief Innovation Officer, Richard Stone, MS. "We look forward to meeting healthcare leaders throughout Florida, many of whom are already leading change in patient safety, quality improvement and the patient experience. We have offered a version of this program internationally, and we promise this will be one of the best learning experiences healthcare leaders have had in a long time that will immediately impact their role as a leader," states Stephen Powell.
To learn more about the program, contact the Florida Hospital Association Regional Office at (407) 841-6230.
About Synensis:
At Synensis, we believe that by creating healthier organizations, we can improve the quality of healthcare around the world, helping save thousands of lives each year.
High functioning and knowledgeable leaders and teams are at the heart of a healthy organization. That's where we start, providing the tools, knowledge, coaching, and training to heighten the interpersonal effectiveness of every member of the clinical and non-clinical teams.
By helping healthcare systems with structure and direction, we position them to be leaders for this new era in healthcare delivery. We are advocates for this transformation in healthcare – because we know that healthier organizations produce healthier outcomes and ultimately, healthier patients.
Media Contact:
Richard Stone, MS
Chief Innovation Officer
Phone: (678) 369-6317
Email: rstone(at)synensishealth(dot)com
Web: http://www.synensishealth.com