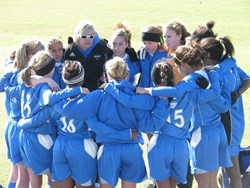 Richardson, TX (PRWEB) February 19, 2014
Brent Coralli, CEO of Sting Soccer, posted today his latest blog, which he authored.
Here is an excerpt:
If you've been reading these blogs for the past few months you've probably noticed the topics discussed are very near and dear to me. For example, the powerful economic impact of amateur sports on communities which support them is something I feel strongly about.
We've introduced you to some of the factors that went into our launching of our active sports line – VOLA – and how sports apparel can get you in the zone on the field.
We've also introduced you to our mission at Sting Soccer and how it transcends sports. Plus, we've attempted to show how traditions such as our presentation of tassels to our younger players can give them a foundation that will last a lifetime.
We Walk the Walk
For this post, I thought we'd change it up a little. Since the topics for this week are two of our most important pillars of the Sting Soccer – Commitment and Leadership – it seems appropriate that this comes directly from me. Why? Just as we work hard to instill these two traits in the actions of our young athletes, the management of our organization, including yours truly, must walk the walk and talk the talk of commitment and leadership.
Our management team, coaches and staff are committed to leading by example and this is not lost on the young women who look to us for guidance.
The Challenges of Commitment
Being a member of the Sting Soccer club is not easy and to some degree we planned it that way. It's physically and emotionally challenging. There are two practices each week and games each week. There's travel involved and community service. This doesn't leave a lot of time for anything else – especially anything that's a waste of time.
Read the rest of Brent Coralli, Sting Soccer's CEO, on Commitment and Leadership in which Brent talks further about commitment and how you can't lead where you won't go.