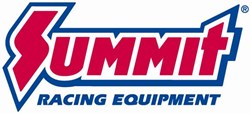 Tallmadge, OH (PRWEB) February 20, 2014
PowerNation and Summit Racing have teamed up to showcase the latest parts and accessories for high performance, musclecars, trucks, and off-roading. Enthusiasts can learn about these parts on episodes of PowerNation's Engine Power, Detroit Muscle, Truck Tech, and Xtreme Off-Road TV shows, then get the ones they want anytime at SummitRacing.com.
As seen on PowerNation's Engine Power TV show, The Fesler Billet Battery Mount is a great-looking way to secure an Optima battery in most high performance cars, trucks, and off-road vehicles.
Designed specifically for Optima batteries in 34 and 34/78 sizes, the Fesler battery mount is made from billet aluminum and polished to a brilliant finish. It has an intricate overlay that is perfectly contoured to the battery's surface. The mount locks together with recessed allen-head bolts.
The Fesler Billet Battery Mount was featured on Episode Six of PowerNation's Engine Power show. Enthusiast can watch the full episode at PowerNationTV.com.
See Fesler's Billet Battery Mounts at SummitRacing.com.
Summit Racing Equipment
http://www.SummitRacing.com
1-800-230-3030