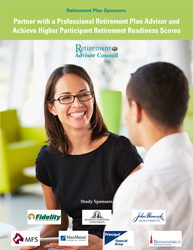 More plan sponsors retain the services of an Advisor specialized in retirement plans than ever before. The profession is making a positive impact on contribution levels and the retirement readiness of the population as a whole
Eaxt Granby, CT (PRWEB) February 24, 2014
A comprehensive study found that 401(k) and 403(b) retirement plan sponsors who partner with a Professional Retirement Plan Advisor enjoy superior participant outcomes.
The survey of 407 key decision makers for plans with $5 million to $500 million in plan assets was conducted online between September 11 and September 24, 2013 with funding and research oversight by Fidelity Investments, Franklin Templeton Investments, John Hancock Investments, MFS Investment Management, MassMutual Retirement Services, Principal Financial Group, and Transamerica Retirement Solutions.
Key findings:

More than four in five plans that partner with an Advisor dedicated to the retirement plans business have seen employee contribution rates rise in the last two years
Among plans with a Professional Retirement Plan Advisor that have experienced a rise in contribution rates, one-third have seen the average employee contribution rate grow by 6% of pay or better
Three quarters of plan sponsors that partner with a Professional Retirement Plan Advisor estimate 50% or more of their participants are on track to achieve a successful retirement
60% strongly agree the amount of time they spend administering the plan is reasonable
53% say their Advisor does an outstanding job of helping them with the implementation of the fiduciary process
An executive summary of research findings is posted at: http://www.retirementadvisor.us/research.html
"More plan sponsors retain the services of an Advisor specialized in retirement plans than ever before. The profession is making a positive impact on contribution levels and the retirement readiness of the population as a whole," says James D. Robison, AIF® of White Oak Advisors.
The study surveyed 407 plan sponsors to compare outcomes for plan sponsors who rely on a Professional Retirement Plan Advisor with a benchmark for other plans that do not utilize the services of an Advisor at all, or that prefer to do business with an Advisor or consultant who does not specialize in retirement plans. The survey questionnaire addressed a wide variety of questions to identify areas where Professional Retirement Plan Advisors do an outstanding job and other areas where they could stand to improve.
This original research expanded on findings of a study published in 2012 that revealed considerable benefits for plan sponsors who partner with a Professional Retirement Plan Advisor. Study sponsors selected new areas of investigation for this second edition. Plan sponsors in focus groups were curious to know more about what their Advisor could do to measure participants' retirement readiness and to help participants achieve it; the questionnaire was structured to address these concerns.
"Professional Retirement Plan Advisors do more for their clients to help them with the implementation of the fiduciary process, and to review plan design and investment options. Given the breadth of knowledge and experience of plan Advisors, it is not surprising that over 70% of clients rate their Advisor outstanding for plan recommendations," adds Michael H. Gouldin, AIF®, CRPC® of Gouldin & McCarthy, LLC.
The need for a generally accepted definition of retirement readiness has been the object of debate in the retirement plans sector over the last few months. Whether a participant is retirement ready is largely subjective and depends on facts, circumstances, and personal expectations. Differences in approach and calculations make it critical for plan sponsors to hire a Professional Retirement Plan Advisor knowledgeable about the nuances. In 2014, the Council will formulate a position on generally accepted definitions of retirement readiness at the individual level and at the plan level to help sponsors discern between methods.
About the Retirement Advisor Council
The Council advocates for successful qualified plan and participant retirement outcomes through the collaborative efforts of experienced, qualified retirement plan advisors, investment firms and asset managers, and defined contribution plan service providers. The Council accomplishes this mission by its focus on:

Identification of duties, responsibilities and attributes of the professional retirement plan advisor.
Sharing our professional standards with plan sponsors who are responsible for the success of their plans.
Providing collective thought capital to decision makers, product providers, legislators and the public.
Giving voice to the retirement plan advisor community.
Tools to evaluate advisors, ensuring the quality of services needed for successful retirement outcomes.
Learn more about the Council at http://www.retirementadvisor.us