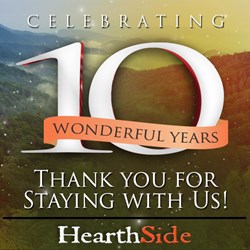 Pigeon Forge, TN (PRWEB) February 18, 2014
HearthSide Cabin Rentals, the leader in Pigeon Forge and Gatlinburg vacation cabins, officially announced 10 exciting years of business.
As cabin owners and long time friends of the Smoky Mountains, Danny and Janice McAllister have had a great interest and investment in the area for years. One evening with friends beside a kitchen fireplace, the couple had an idea to create a better type of cabin rental experience. Thus, the name HearthSide was born. Using the name from the fire that night, Danny and Janice began their own company, HearthSide Cabin Rentals.
"It was not an easy decision to start our own business," said Janice McAllister. "We had seen so many people come in and do it wrong that we knew we needed to do it right."
What started as a small idea among friends has grown into one of the industry's most innovative and fastest-growing cabin rental companies in the vacation industry. Ten years after founding the company with 10 cabin rentals, Danny and Janice now manage nearly 120.
"We knew we needed to take care of three elements: the guest and their vacation, the owner and their investment and the people who depend on the profit of the company," said Janice.
Those three elements led to the company's motto, "You've got a friend in Tennessee." Friendship and family is a long-standing tradition for the company that Janice and Danny hope to see continuing in the future. Along with a son and daughter-in-law, HearthSide employs Janice's sister and many long-time family friends.
They also hope to see the excitement and growth developed in the past 10 years continue into the company's next decade. Within the past year, the cabin rental company has branched out into two new niches in the vacation industry.
The first, with the opening of the Big Moose Lodge in 2013, HearthSide has become the leader in the large group cabin rental industry. By sleeping up to 74 guests under one roof, the lodge is the largest cabin rental in the United States.
The other niche HearthSide has recently taken on, a wedding venture, is another exciting step toward growth and success. Hearthside at the Preserve provides couples and families Smoky Mountain wedding services, from a chapel and outdoor pavilion to wedding planning.
No matter the reason for visiting the Smoky Mountains, HearthSide Cabin Rentals wants guests to know they are there to make sure that each vacation is memorable. Whether traveling with a large group, getting married, or simply enjoying a relaxing weekend, HearthSide Cabin Rentals has the perfect cabin rental to accommodate your vacation's needs.
Hearthside Cabin Rentals and Property Management offers a variety of cabins in Gatlinburg, Pigeon Forge and Sevierville, Tenn. Hearthside Cabin Rentals has been family owned and operated, calling the Smoky Mountains home since 2003. Along with their 25 employees, owners Daniel and Janice McAllister work to ensure guests feel more like family than customers. All offices are located at 702 Wears Valley Road, Pigeon Forge, Tenn., and are open Monday- Friday 9 a.m.- 9 p.m. and Saturday-Sunday 9 a.m.- 8 p.m. For additional information, or to reserve a cabin, visit their website at http://www.hearthsidecabinrentals.com, or contact Hearthside Cabin Rentals by phone at 1(888) 993-7655.