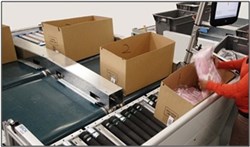 We know today's customers crave a flawless experience. They care about ordering and delivery, not channels.
Raleigh, NC (PRWEB) February 19, 2014
New advancements in goods-to-person order fulfillment technology bring companies faster, more flexible distribution operations to meet today's growing multichannel challenges.
Tompkins International's recently released paper, The Evolution of Goods-to-Person Order Fulfillment: How to Meet Distribution Challenges in the Age of E-commerce, divulges the eight critical benefits of utilizing this new technology and how companies can achieve the highest payback for their operations.
"Goods-to-person order fulfillment is certainly not new, but the application for these systems was never overly widespread in the past due to limited advantages and functionality," explains Thompson Brockmann, Principal at Tompkins International and author of the paper.
Advantages of today's systems include better operator productivity, improved operations, reduction of space, and more flexibility. Specific evaluation and design considerations for a successful goods-to-person order fulfillment system are also explored in this new resource, along with a review of the latest systems.
"We know today's customers crave a flawless experience," Brockmann explains. "They care about ordering and delivery, not channels. As markets and customer expectations change, these new systems have become a must-have for any successful operation."
For more information or to download the paper, click here.
About Tompkins International
Tompkins International is a professional services firm that provides new solutions for supply chain improvement. Tompkins enables client organizations to be more profitable and valuable, while also becoming more skilled, agile, and adaptive to leading practices. We collaborate with client teams to develop improved operations strategies, supply chain planning, and execution of all the Mega Processes of supply chains (PLAN – BUY – MAKE – MOVE – DISTRIBUTE – SELL). With headquarters in Raleigh, NC, Tompkins also has offices throughout North America and in Europe and Asia. For more information, visit http://www.tompkinsinc.com.
Twitter: @jimtompkins
Creating Supply Chain Excellence Blog: http://www.tompkinsinc.com/category/blog/
Global Supply Chain Podcast: http://www.tompkinsinc.com/category/podcast/
###