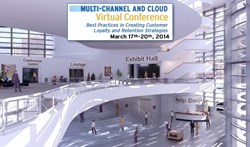 Sarasota, Florida (PRWEB) February 20, 2014
CRMXchange presents the 4th Annual Multi-Channel and Cloud Virtual Contact Center Conference. This 4 day online event, held March 17-20, http://ecrmevents.com, spotlights proven best practices for creating customer loyalty and retention strategies.
Customers are not only demanding better, more responsive service, they are also insisting that it be delivered through a variety of readily available channels. While voice remains the primary communications method, it is closely followed by self-service, email and chat. According to Forrester research, there has been a 12% rise in the use of web self-service, 24% in chat engagement, and 25% in online community participation for customer service over the past 3 years. As customers hop from channel to channel, organizations strive to meet their evolving demands and find new ways to ensure consumers get consistent service across all touch points.
Deploying cloud-based contact center solutions gives companies the agility and flexibility to integrate their CRM applications and supply agents with the complete customer information they need at their fingertips to provide superior cross-channel service.
The Multi-Channel and Cloud Virtual Contact Center Conference addresses new strategies, emerging technologies, and updated metrics for building customer loyalty and strengthening relationships. This event enables an organization's entire customer care team to take part in expert-led live workshops with no conference fees, no travel costs, and no time away from the office. If you miss an event, there's never a problem because all sessions are recorded and remain available for 14 days after the event.
The first day conference keynote presentation, "Creating a Culture of Service Excellence," on March 17 will be delivered by renowned customer service expert Lisa Ford. Ms. Ford is the author of the videotape series How to Give Exceptional Customer Service, the #1 selling business tapes in the U.S. for over 3 years. She was named to the Speakers Hall of Fame by the National Speakers Association
Additional conference sessions:
•A Week in the Life of a Multi-Channel Customer
•Agile Responsiveness to Customer Needs
•Lessons Learned from Hurricane Sandy, Presented by NJ-2-1-1
•5 Key Criteria to Deliver Best-in-Class Self Service
•The Super-Agent: New Models for Multi-Channel Interaction
•Turn the Channel of Last Resort into a First-Rate Customer Experience
•Workforce Optimization Best Practices to Unleash Multi-Channel Operational Excellence
•Are Your Customers Satisfied Across All Channels
•60 Ideas in 60 Minutes
Speakers:
•Joe Alwan, Vice President and General Manager of AVOKE Analytics, Raytheon BBN Technologies
•Elaine Cascio, Vice President, Vanguard Communications
•Stefan Captijn, Director, Product Marketing, Sean Murphy, Speech and Text Analytics Product Marketing Lead, Genesys
•Sachin Davankar, Product Marketing Manager, KANA, A Verint® Company
•Don Van Doren, Principal and co-founder, UniComm Consulting and Vanguard Communications
•Lisa Ford, Speaker and Author
•Michael Kropidlowski Senior Manager Product Marketing, Aspect Software
•Jason Lowe, Senior Product Marketing Manager, inContact
•Gregory Pal, Vice President of Marketing, Strategy & Business Development of the Nuance Enterprise Division
•Laura Zink Marx, Executive Director, NJ 2-1-1 Partnership
To register at no cost, visit http://www.ecrmevents.com. For more information about this or other virtual conferences presented by CRMXchange, contact info(at)crmxchange(dot)com or call 941-702-8389.
About CRMXchange
Founded in 1995, CRMXchange has long been recognized as a premiere destination on the Internet for the exchange of information and ideas on customer relationship management, sales, contact center, and telemarketing issues. Today, the site offers a wide variety of resources for CRM professionals. CRMXchange has developed unique insights into the kinds of business intelligence and professional development programs required for successful contact center operations. And as a pioneer of the Internet, CRMXchange understands the profound role the web can play in the all-important arena of peer-to-peer communication. Known by our audience as the "event site," CRMXchange has gained a reputation as an expert in the hosting and marketing of webcasts and other online events.