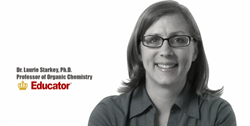 Educator.com pairs students with the best university professors and educators in the country.
Los Angeles, CA (PRWEB) February 20, 2014
Science--the pursuit of knowledge to prove, study, and understand the world around us. To facilitate student learning and achievement, Educator.com offers a world of knowledge; explore various courses under Physical, Life, and Social Sciences.
Lessons at Educator.com are full comprehensive courses taught by the best instructors of their respective field. They are passionate and experienced educators, loved by their students. Their goal is to break down even the most difficult of concepts, and provide in-depth explanations backed by real-world examples to set students up for success in their course, and ultimately future endeavors.
Below is the growing list of Science courses from Educator.com. Please feel free to explore the syllabi, enjoy the free sample lessons, and meet the professors! Everything below is available for your learning enjoyment; discover the secrets of our human mind and body--how food grants us energy or how similar concepts power our cars and daily devices, and so much more. The courses range in level with a few that touch upon Middle School sciences to AP/University level courses and above.
PHYSICAL SCIENCE
Chemistry:

Physical Science (Middle School)
General Chemistry
Biochemistry
Physics:

High School Physics (Theory & Application)
AP Physics B
AP Physics C/Electric Magnetism
AP Physics C/Mechanics
LIFE SCIENCE
Biology:

Life Science (Middle School)
Anatomy & Physiology
Coming soon: Microbiology and Molecular Biology
SOCIAL SCIENCE

At Educator.com, with just one subscription, students, parents, and professionals alike can learn and review over 100 courses that span Math, Computer Science, Software Training, Language, and AP/SAT Test Prep. Complete access to Educator.com's extensive library is yours at three subscription plans: $45 for the first month ($35/month thereafter), $180/6 months, or $300/12 months. Pursue a world of knowledge; learn anytime and anywhere at your own pace.
Educator.com is proud to provide today's scholars with advanced digital study materials that meet both their academic and financial needs. New and exciting courses are frequently added. At this time, Educator's various Science courses and accompanying free sample lessons are available for immediate viewing.
###
Educator.com pairs students with the best university professors and educators in the country. Educator's goal is to provide high school, college, and professional students with a variety of academic subjects in an online video format that is affordable, accessible, effective, and comprehensive.
The most effective way to improve education is to have the best teachers teach. With the best instructor in a subject, learning anything is possible. Every student deserves an excellent education regardless of geographic location or socioeconomic status and with Educator.com's affordable pricing everyone can access the site's complete content. For more information about the company please visit the About Us Page.