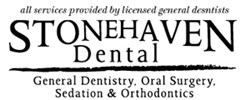 Salt Lake City, Utah (PRWEB) February 20, 2014
For a child or someone who might suffer from anxiety, the dentist's office can understandably be a scary place. There's a lot of unfamiliar terrain and a lot of poking and prodding of the mouth. Luckily, Stonehaven Dental offices in Utah are now offering sedation techniques to eradicate any anxiety or fear that patients might be feelings. Anxiety is nothing to be afraid of; millions of Americans suffer from it throughout their lifetimes. However, one should never let anxiety or fear keep them from receiving the vital dental care that they might need. For this reason, Stonehaven is pleased to offer their assortment of sedation dentistry techniques at their four locations in order to eliminate any unfortunate fear or anxiety patients might have towards any given dental procedure.
From root canals to wisdom teeth removal, sedation techniques have found a remarkable place in the dental field. More and more dental offices in Utah have turned to these techniques with the health and well-being of their patients in mind. They have proven to be an excellent alternative to the pain and fear that patients might feel at the time of the procedure. These negative emotions are something their dentists in Draper actively try to eliminate in their practice. Patients are able to fall asleep peacefully, knowing that their procedure will have been completed by the time that they wake up again. In this manner, sedation techniques offer more than a way to escape the fear and frustration of oral procedures.
Stonehaven Dental's dental offices in Utah actively try to make every procedure as comfortable for their patients as possible, and this is increasingly accomplished by utilizing sedation techniques. These techniques are 100% safe and can even be done on children, who are often intimidated and frightened by the dentist's office. Patients of every age will benefit from this peaceful and safe sedation dentistry, and they will be able to enjoy the finished results of their procedure. With sedation techniques performed by Stonehaven Dental, anxiety relief is not only a wish but a reality. For more information, visit their website at http://stonehavendental.com/.