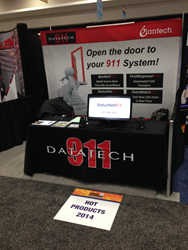 Greenbelt, MD (PRWEB) February 20, 2014
DataTech911 wishes to thank the fine people at JEMS, PennWell Corporation, all of the other Conference Sponsors and the many hundreds agencies and First Responders in attendance for making the EMS Today Conference so successful for our organization.
DataTech911 appreciates the fine reception received for the DataTech911 product suite and the opportunity to meet and chat with the many attendees who visited either the DataTech911 main booth or the DataTech911 display within the MCI City Real World Multi-Casualty Emergency Medical Response Demonstration. DataTech911 also wants to give a special thanks to those who attended the StatusNet911 Hot Products 2014 presentation.
The time spent discussing what EMS problems the community will face in the future and what solutions will be needed was very beneficial. Understanding what works and what is needed is vital to helping develop the solutions of the future.
DataTech911 helps first responders save lives by providing valuable tools for effective system status management and monitoring. DataTech's software provides a high level of predictive, analytical, and vital operational information to emergency officials during multi and mass casual incidents, natural disasters, potential bioterrorism threats, and more—helping first responders identify and react to medical emergencies faster than ever before.
DataTech911 solutions, comprised of BioAlert911, DataWatch911, FirstResponse911, and StatusNet911, includes advanced bio surveillance and EMS software. All products interface directly with existing EMS and 911 systems to enhance the speed and effectiveness of emergency response. By raising the level of coordination and interoperability between multiple CADs, PSAPs, dispatchers, and all responding agencies across multiple municipalities, DataTech911 software solutions facilitate rapid, more effective, EMS management and coordination.
DataTech911 provides products and technologies which enhance the speed & effectiveness of emergency medical response, improve response systems management with advanced analysis tools, communications capabilities, and more.