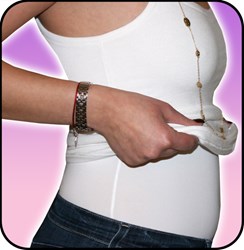 Marlboro, NJ (PRWEB) February 19, 2014
Tres Chicas LLC, a fashion-forward beauty-solutions company and the owner of Bootie Pies' patented convertible winter pedicure boots, today announced that their second product – Cami-Rolls® – was granted a U.S. patent. Cami-Rolls® double layered slimming camisoles are designed to offer women maximum tummy-taming coverage. The hidden inner layer, made of stretchy spandex material, tucks into bottoms slimming and smoothing the spare tire while the outer layer camouflages any unsightly rolls –without the risk of riding up. Cami-Rolls® are unique because they don't look like typical shapewear: they look like an ordinary camisole. They can be worn under sweaters or blouses or on their own as a tank top.
"I'm delighted with the granting of a patent for this unique product," said Deanna Kipnes, co-founder of Tres Chicas, and the inventor of Cami-Rolls®. "Patents are very rare in this industry and now Tres Chicas is proud to be the owner of two U.S. patents." Cami-Rolls®, exclusively available online at http://www.camirolls.com, are offered in three colors and in Women's Sizes XS-3X.