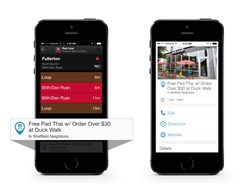 Chicago, IL (PRWEB) February 19, 2014
CommuteStream, a mass transit based mobile advertising network, launched their Chicago pilot today offering brands a new way to reach consumers based on commute patterns.
The ad network uses 'Predictive Geo-Targeting' to display content based on individual rider travel routines and preferences. Applications that collect transit data such as train and bus trackers use this patent-pending technology to display locally relevant advertisements to riders using their app.
In this way, a local bar can promote a daily special to consumers that take a train or bus line that passes by their location.
Within a month, CommuteStream expects to be able to offer more than 1,000,000 impressions per month of these hyper local advertisements.
"With smartphones taking over, understanding riders on an individual level, and in the context of the transit system, opens up major hyper-local advertising possibilities and new markets," CommuteStream co-founder Samuel Pro said. "It puts the power of highly-targeted mobile advertising, traditionally reserved for large brands and agencies, into the hands of businesses that didn't previously have any affordable or easy-to-use options."
Local advertisers struggle to tap into the power of mobile ads, since current options tend to be expensive, poorly targeted, or require offering aggressive deals that can easily backfire on businesses. Despite these barriers, location matters and can be one of the strongest drivers to purchase. In fact, Mobile Marketer recently reported a 3X performance increase for mobile campaigns that incorporate location over a standard campaign.
CommuteStream equips local businesses with simple, innovative tools for targeting commuters. Additionally, CommuteStream helps transit app developers more effectively monetize applications by delivering highly relevant ads. Soon, CommuteStream will also offer real-time travel alerts and other similar content.
"In 2012, Americans took 10.2 billion public transit trips. Our goal is to eventually reach the mobile devices of every one of these riders," added Pro.
The company has filed a patent and plans to make their ad network and API available to other developers. Currently, the technology is available in Chicago, with plans to expand to other national and international markets.
Transit app developers and local advertisers who are interested in learning more, can visit CommuteStream.com for additional information.
About CommuteStream
CommuteStream, a product of the TransitChatter Group, aims to redefine the public transit experience and how businesses interact with riders. In a time when the effectiveness of traditional print advertising is suffering, and costs are at an all-time high, CommuteStream makes affordable mobile products that are highly targeted and scalable -- specializing in driving foot traffic to locations located near and around public transit. Their content delivery platform fills a void in effective mobile advertising on mass transit. By learning the routines of riders, they match individuals with the most relevant ads, and make these highly desirable and powerful products easily available to the underserved and uncultivated market of small-medium sized businesses.