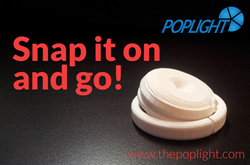 The Take-Anywhere-And-Be-Seen light.
Toronto, ON (PRWEB) March 07, 2014
CC Marketing Group announces Kickstarter Campaign to fund the POPlight – a portable LED safety light for runners, cyclists and all others active between sun-down and sun-up.
The Toronto-based marketing agency branches out to develop and launch a small, lightweight, non-constricting light that easily snaps on and off clothing and accessories.
Runners, cyclists and other outdoor enthusiasts will be able to train more safely in low light conditions this spring should the POPlight's Kickstarter Campaign succeed. The campaign launches Friday, March 7, 2014, and seeks to raise $11,000.00 to fund the next phase of manufacturing and sales-channel development of the simple but innovative product.
Cameron Couch is the inventor of the the POPlight, and heads CC Marketing Group – a multi-disciplinary marketing agency that has been providing plastic merchandising solutions to the foodstore industry since 2003. The product was conceived in 2007 when Mr. Couch was preparing for a 30km road race in Hamilton, ON. "I was training in the winter and it was almost always dark," says Couch. "In order to meet my training requirements, I had to run in pre-dawn light and the almost pitch-black hours after work. In both cases, I was forced to cross streets in very dangerous conditions."
An avid cyclist, Mr Couch thought there had to be a way to simply integrate the safety of a bike light with running gear, and soon came up with the POPlight concept.
The light comes in two pieces - a removable ringed frame worn under any item of clothing and the main LED component that snaps into the frame from the exterior of the fabric.
The POPlight seeks to bring affordable safety to the public. The major advantages of the light are:

POPlight is wearable with almost all fabrics – shirts, scarves, toques, gloves, pants, shorts, socks, and a multitude of other pieces of clothing.
POPlight is lightweight and sleek enough that it can be worn without affecting a user's comfort, stride, or gait.
POPlight will not damage the fabric onto which it is placed – no holes or tears.
POPlight's battery can be replaced easily, prolonging the product's life.
The Kickstarter campaign promises a number of rewards including product samples to backers that pledge $24.00 or more, t-shirts, and signed Giclée prints of prototypes. The POPlight campaign also offers a chronological, framed display of the four major prototype designs to backers that pledge $500.00 or more, each printed on a 3D printer.
As of 10pm ET on Thursday, March 6th, the Kickstarter Campaign had received 7% its funding goal.
For more information or to access the Kickstarter campaign: http://www.thepoplight.com or visit the Kickstarter Campaign itself here:
https://www.kickstarter.com/projects/372470724/pop-lights-the-take-anywhere-and-be-seen-light
For additional product information or comment:
Cameron Couch: Cameron(at)ccmarketinggroup(dot)ca or 416.358.1515
ABOUT CC MARKETING GROUP:
CC Marketing Group is a niche, Toronto-based marketing agency that specializes in assisting hardware and software vendors to the IT and Telecommunications market. We occasionally branch out to build fun side-projects, but our focus has been on Lead and Demand Generation for North American start-ups looking to gain market awareness and penetration. To inquire about becoming a client, or for more information on our other projects, please visit: http://www.ccmarketinggroup.ca or email info at ccmarketinggroup.ca.