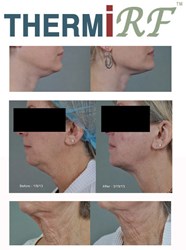 Southlake, TX (PRWEB) February 19, 2014
ThermiAesthetics(TM) announced today the publication of a clinical study analyzing the ThermiRF(TM) system, the first FDA cleared temperature controlled radiofrequency system designed for cosmetic applications. The study, which appeared in the February issue of the Journal of Drugs in Dermatology, treated submental skin laxity in 18 subjects using thermistor-controlled subdermal skin tightening (ThermiTightTM) via percutaneous radiofrequency.
"The data from the study demonstrates the safety and effectiveness of a micro-invasive, office-based solution for patients with laxity in the lower face and neck," said Paul Herchman, Chief Executive Officer of ThermiAesthetics. "The combination of thermistor-regulated energy delivery and the simultaneous monitoring of subdermal and external temperatures, enables physicians to safely produce a single treatment result, with little or no downtime, which has not previously been possible."
A gradual decline in collagen and elastin in the skin over time can lead to excess skin laxity. This loss of skin quality can be a barometer of age, driving patient demand for skin restoration procedures. A growing number of aging baby boomers are seeking a solution for advanced skin laxity that outperforms non-invasive procedures but is less invasive than traditional surgery – they are often called the "in-between" patient.
"The future treatment of aging skin is being taken to a new frontier with Thermal Image Guided Skin Tightening and that's what ThermiTight is all about," said study author and board certified dermatologist Dr. Douglas Key. "Our preliminary data supports the utility of comprehensive thermoregulation for the purposes of skin tightening that integrates continuous subsurface and epidermal temperature monitoring." Dr. Key further noted that ThermiRF precisely monitors skin temperatures using an advanced infrared imaging camera, which contributes to the overall safety of the device. The precise level of external and subsurface tissue monitoring enables medical professionals to deliver controlled heat to targeted tissues, without risking epidermal damage, helping patients reach their cosmetic goals.
Additional studies are planned and underway to further demonstrate the safety and effectiveness of ThermiRF for numerous cosmetic conditions.
About ThermiRF
ThermiRF is an advanced technology using finely controlled thermal energy. It is a multi-use platform, which promotes increased patient safety and clinical effectiveness, while providing versatile solutions for physicians serving the aesthetic market. The device has been cleared by the FDA for dermatological and general surgical applications in soft tissue, and for lesioning of nerves. ThermiRF features a unique temperature control feature and uses proprietary hand pieces, which are designed for specific aesthetic and medical applications. These include a variety of disposal RF electrodes and cannulas and reusable non-invasive hand pieces. The ThermiRF platform also incorporates state of the art infrared imaging to ensure safety and visual clinical endpoints.
About ThermiAesthetics
ThermiAesthetics is a medical device manufacturer based in Southlake, Texas. The company is focused on providing thermistor-regulated energy solutions for the aesthetic medical market. For more information, visit http://www.thermi.com.