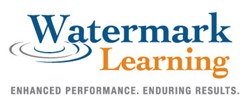 Our goal with this new offering is to give people flexibility with their learning, both in the schedule and the topics they want to attend.
Minneapolis, MN (PRWEB) February 21, 2014
Watermark Learning, a leading global provider of Business Analysis, Project Management, and Business Process Management certification training, announced today that in March it will launch a new series of mini courses that are specifically designed around building successful business cases.
Watermark Learning's President Richard Larson explained that the courses will be aimed at project managers, business analysts, and process analysts.
"These courses will be offered only as online virtual classes," Larson pointed out about the classes, which he goes on to say are based on the need for a clear and relevant business case as an essential ingredient to successful projects.
Students, Larson noted, can attend each segment independently as stand-alone courses or attend each one as a continuing series.
"Through this new series of course segments, students will learn a repeatable process that starts with identifying business needs, performing root-cause analysis, making feasible recommendations, and ends with a bulletproof business case," Larson stressed, before adding that the series includes six parts. Students can attend the entire series or pick and choose which segments they want to attend.
The topics within those six parts, according to Larson, are Part 1: Business Cases: What to Include and Who to Involve; Part 2: Define the Business Need: Understanding the Situation; Part 3: Root Cause Analysis; Part 4: Making Sound Recommendations; Part 5: Cost-Benefit Analysis; Part 6: Business Case Benefit Projections.
Those who sign up for the courses will receive a comprehensive study guide with PowerPoint slides, and detailed notes to serve as both an in-class guide, and on-the-job reference.
In addition, students will also receive workshop solutions that serve as an example business case, as well as a comprehensive business case template to use on the job to jump-start their real-life business cases.
"Class discussions and exercises are used throughout the sessions to reinforce the information presented," Larson said. "Our goal with this new offering is to give people flexibility with their learning, both in the schedule and the topics they want to attend."
For more information, visit: http://www.watermarklearning.com/blog/new-business-case-mini-courses-begin-in-february/ and http://www.watermarklearning.com/courses/mini-courses.php.
About Watermark Learning
Since 1992 Watermark Learning has provided training that turns the complexity of industry standards into practical application. Our courses are laser-focused to enhance performance for business analysts, project managers, and process analysts and lead to enduring results in organizations. Our interactive classes engage students to learn and motivate them to perform. Contact us at (+1) 952.921.0900 or 800-646-9362 (USA only), or visit http://www.WatermarkLearning.com.
Media Contact Details:
Mike McCalley
7301 Ohms Lane, Suite 360
Minneapolis, MN 55439
Phone: (+1) 952.921.0900
Fax: (+1) 952.921.0901
Source: Watermark Learning