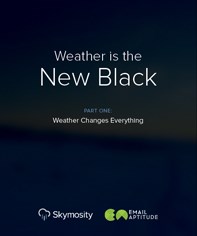 Weather is the New Black explores weather's influence on consumer purchase behavior, as well as the key ingredients for marketers to leverage weather-based marketing technology.
San Francisco, CA (PRWEB) February 20, 2014
Skymosity announced today the release of their latest white paper: Weather is the New Black - Part One: Weather Changes Everything to explore the relationships between marketing and weather. Diving deep into marketer weather considerations and proceeding through how to best leverage available weather marketing technology, Weather is the New Black provides marketers with the full gamut of weather's influence on consumer purchase behavior, as well as the key ingredients on how to maximize weather's influence through thoughtful marketing strategies. Click to view and download the free white paper.
Highlights from Weather is the New Black:

Weather Considerations for Marketers including smart questions marketers should be asking to maximize their marketing efforts
The Power of Weather demonstrating weather's tremendous influence on product purchase decisions and consumer purchase psychology
A Brief history of Weather illustrating weather's advancement and uses throughout the ages
From Big Data to Actionable Data underscoring that the value of big data lies in the ability to take action on it: weather is no exception
Maximizing Weather Marketing Opportunities highlighting the transition of weather marketing from avoid and correct to anticipate and maximize, and how to use advanced Weather Analytics, Email Triggers, Website Personalization and more...
Weather is the New Black is available for complimentary download at http://www.skymosity.com/white-papers/weather-is-the-new-black-part-one.php.
About Skymosity
Skymosity is a breakthrough Weather Marketing SaaS platform. Starting with its flagship and patent-pending email trigger technology, EA Rainmaker, the Skymosity Weather Marketing Platform transforms big weather data into actionable wins and enables marketers to leverage advanced weather analytics, email triggers, weather-based site personalization, and more. For more information, visit Skymosity.com.