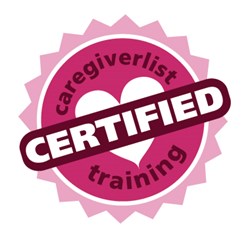 Chicago, IL (PRWEB) February 20, 2014
Caregiver Training University announces the launch of Caregiverlist Basic Training, providing easy-to-access online caregiver training for professional and family caregivers. The digital training platform allows caregivers to take the training course from their laptop, desktop or smartphone. The Caregiver Training University (CTU) training meets industry standards for professional competency.
More states are requiring consistent caregiver training to be implemented annually. The Home Care Association of America, formerly the National Private Duty Association, championed basic caregiver training to be implemented by state departments of health. Illinois was one of the first states to pass legislation for an 8-hour caregiver training requirement in order to insure both caregivers and seniors would enjoy a safe senior care environment.
"Senior care companies reached out to us for professional caregiver training as they were unable to find digital training which matched the basic caregiver skills training now required by the departments of health in many states," says Julie Northcutt, CEO of Caregiverlist, Inc.
Caregiver Training University's 8-hour digital learning course provides caregiver training organized by sections for each training topic and includes audio of the training program. Caregivers may review a tip sheet at the end of each section and take a practice quiz which includes study sheets before taking the exam. Caregivers must answer 75% of the 36 questions correctly to obtain a passing score. Caregivers who fail the exam on the first try may re-take the exam and will receive a new set of questions.
Seniors requiring assistance with their care needs may choose to age-in-place in their own home and receive one-on-one care managed by a professional senior care company. These professional senior care companies hire as many as 5 to 10 new caregivers each week, as senior care usually starts quickly. However, maintaining consistent, quality training has been a challenge in the past.
Caregiver schedules vary widely, as live-in caregivers will work for a few days at a time while hourly caregivers may work day, evening or night shifts. Caregiver Training University's digital platform delivers the ability for senior care companies to provide one consistent training platform to all their caregivers, regardless of where the caregiver is located.
As many caregivers do not come to the same office location each day, the digital training platform solves the challenge of trying to schedule one training day for caregivers working a wide variety of schedules. As the number of senior home care agencies has increased by more than 40% since 2008, Caregiver Training University will help provide consistent caregiver certification standards for the industry.
The basic caregiver training skills included in the 12 sections of the Caregiverlist Basic Training:
Section 1. Caregiver Job Responsibilities and Protocol
Section 2. Senior Caregiver Job Description
Section 3. Communication Skills
Section 4. Care Plan and Care Plan Notes
Section 5: Personal Care and Toileting
Section 6: Adaptive Equipment for Transfers
Section 7: Basic Hygiene and Basic Infection Control
Section 8: Maintaining Clean and Safe Environments
Section 9: Basic Personal and Environmental Safety Precautions
Section 10: Basic First Aid and Emergency Procedures
Section 11: Confidentiality of Client Personal, Financial and Health Information
HIPPA
Section 12: Understanding Abuse and Neglect
The Caregiverlist Certification provides an industry standard which all senior home care agencies can rely on to be sure a caregiver has been certified. Caregivers seeking employment in the senior care industry, which will continue to have an increased need for caregiver employees in the coming decade, can begin by becoming a certified caregiver and will have their name added to the Caregiverlist Registry.