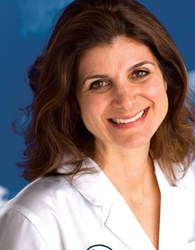 Glendale, CA (PRWEB) February 20, 2014
Animal Specialty Group (ASG), Southern California's premier multidisciplinary veterinary specialty hospital, is pleased to announce the addition of Dr. Debra Voulgaris to its team, where she will be heading up one the nation's most extensive departments for veterinary Physical Rehabilitation and Integrative Medicine. She will be providing patients and veterinarian partners with a wide variety of rehabilitative and integrative treatments, including hydrotherapy, acupuncture, therapeutic laser, biopuncture, and more.
Dr. Voulgaris's role doesn't stop at Physical Rehabilitation and Integrative Medicine. When appropriate, she will collaborate with ASG's board-certified team of specialists –including Surgery, Internal Medicine, Neurology, Oncology, and Critical Care-- to provide pets with comprehensive multi-disciplinary care. This ensures that patients receive optimal full-body support on the road to recovery and wellness.
"We're proud to welcome Dr. Voulgaris to the ASG family," said hospital administrator, Steve Katz. "Her reputation is outstanding, her expertise is unparalleled, and her way with patients is both compassionate and empathetic. She brings tremendous value to our patients, not just through our Physical Rehab and Integrative Medicine Department, but throughout the hospital as a whole."
Likewise, Dr. Voulgaris is thrilled to be part of the Animal Specialty Group team. "I am thrilled to be part of the ASG team. I am honored to be working with such a distinguished group of veterinary professionals".
Dr. Voulgaris is available for appointments on weekends, as well as Tuesday afternoons and evenings.
About Dr. Debra Voulgaris
A leader in her field, Debra Voulgaris, DVM, MA, CVA, CCRP, is board-certified in canine rehabilitation and veterinary acupuncture. She is also a certified Tui-na practitioner, and she's an expert in integrative medicine for canine, feline, equine, camelid, and porcine patients.
In addition, Dr. Voulgaris is a member of the International Veterinary Acupuncture Society (IVAS) exam committee, the prestigious group that sets the standards for acupuncture certification among veterinarians nationwide.
She has published multiple peer-reviewed articles in several prominent publications including Anesthesia & Analgesia, The Canadian Journal of Veterinary Medicine, and The American Journal of Traditional Chinese Medicine.
Dr. Voulgaris attended Ross University, School of Veterinary Medicine, and completed her clinical year at Louisiana State University. She then furthered her education through a pain management and anesthesia internship at the University of Georgia. In 2006, she served as a veterinary associate at an integrative medicine practice in Brooklyn, NY.
For three years, Dr. Voulgaris served as an anesthesia and pain management resident at the University of Tennessee, where she became the University's sole equine acupuncturist and also has given numerous lectures on integrative medicine for canine, feline, equine, camelid, and porcine patients.
Like everyone at Animal Specialty Group, Dr. Voulgaris is dedicated to delivering the absolute best care possible to patients with integrity, experience and compassion, which is why ASG's Physical Rehabilitation + Alternative Medicine team continues to be Southern California's leading authority in providing integrated healing programs for pets of all shapes and sizes.
About Animal Specialty Group
Animal Specialty Group (ASG) has been providing pets with the best compassionate care and most advanced specialized treatments for over 20 years. The well-respected animal hospital provides specialists from multiple disciplines, all working under one roof.
Cutting-edge treatments in Surgery, Internal Medicine, Oncology, Neurology, Physical Rehabilitation and Integrative Medicine as well as Emergency and Critical Care are offered to dogs and cats of all breeds and sizes, through referrals from family veterinarians across the Southern California area and beyond. In addition, ASG offers one of the nation's premier 24/7 emergency facilities, available to any pets in need.
Animal Specialty Group is located in Los Angeles, CA, but it serves veterinary communities throughout the entire Southern California region, from San Fernando to Irvine and Santa Monica to San Bernardino.
To learn more about ASG or to schedule an appointment, please visit http://www.ASGvets.com/ or call (818) 244-7977.