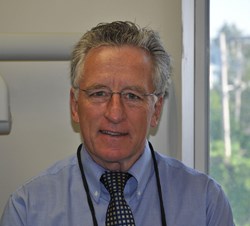 Braintree, MA (PRWEB) February 18, 2014
During Gum Disease Awareness Month this February, Dr. Thomas Mone is reminding patients of the importance of treating gum disease early to avoid the many health issues associated with the disease. Dr. Mone offers patients an alternative to conventional gum surgery in the form of the Laser Assisted New Attachment Procedure (LANAP®), a less-invasive form of gum surgery. Dr. Mone encourages any patients who notice signs of periodontal disease to schedule a gum disease consultation as soon as they can.
Gum disease causes more health issues and afflicts more of the population than many people realize. In 2012, the Centers for Disease Control and Prevention reported that 47.2 percent of Americans suffer from periodontitis, which is the more severe form of gum disease. Periodontitis can cause damage to gums, teeth, and even the bone that holds the teeth. This can lead to gum recession and tooth loss. Unfortunately, the effects of gum disease are not always limited to the mouth.
Periodontal disease has been linked through research to a number of persistent health problems, from heart disease to stroke. The nature of these relationships is not well resolved, since many risk factors for periodontal disease including smoking, poor diet, and high blood pressure are also risk factors for other serious health conditions. If periodontal disease is merely correlated with other health problems, lifestyle changes that prevent gum disease may also improve overall health. If periodontal disease actively contributes to these conditions, treating gum disease offers patients many long-term benefits. This is why Dr. Mone encourages patients to schedule a gum disease consultation early on if they suspect that they have developed the condition.
Dr. Mone offers various options for treating gum disease, including LANAP®. This highly effective laser gum surgery does not involve any cutting or suturing. The laser only affects periodontal disease, so patients keep their healthy gum tissue, leading to less pain, a quicker recovery time, and a lower risk of complications. Many patients are suitable candidates for LANAP®, but Dr. Mone does require a gum disease consultation to evaluate what each patient's best treatment option is. Anyone who wants to schedule an appointment with Dr. Mone or learn more about the risks associated with gum disease can call his office or visit his website today.
About the Practice
Mone Periodontics is a periodontal practice offering personalized dental care for patients in Braintree, MA. The leading periodontist at the practice, Dr. Thomas Mone, graduated from the University of Massachusetts with a bachelor's degree, and then went on to attend the University Of Pennsylvania School Of Dental Medicine and graduated at the top of his class. He completed his periodontal training at Boston University Goldman School of Graduate Dentistry. Dr. Mone is part of one percent of dental professionals providing the LANAP® FDA cleared laser procedure for gum disease and periodontal treatment. To learn more about Mone Periodontics and their dental services visit their website at http://www.braintreeperio.com and call (781) 348-9925.