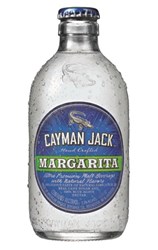 Chicago, IL (PRWEB) February 20, 2014
The margarita is the most frequently ordered cocktail in America, with more than 185,000 consumed every hour*. This Saturday, Feb. 22 is National Margarita Day, marking a moment of mutual admiration for fans and margarita mixers alike. Cayman Jack™, a hand-crafted margarita blending authentic ingredients and just the right bite, is encouraging adventure seekers of legal drinking age to raise their glasses – or their bottles – to mark this celebratory occasion.
Despite its notoriety, the origin of the ever-popular margarita is shrouded in mystery and, in fact, widely debated. Some think it is a version of a prohibition-era drink called the "Daisy," which translates to "Margarita" in Spanish. Others argue over its creation by a wealthy socialite experimenting with drinks at her Acapulco pool party in 1948, or by a bartender in Galveston, Texas, creating a signature cocktail for singer Peggy Lee, the very same year.
While the history of the margarita remains mysterious, what's inside a bottle of Cayman Jack is not. It's arguably the most refreshing margarita in the world thanks to the natural ingredients used in the simple recipe. Cayman Jack uses only real ingredients including 100 percent blue agave nectar, organic limes, and pure cane sugar, and strikes the perfect balance between strength and refreshment. Available nationwide, the beverage has 5.8 percent alcohol by volume and is sold in a six-pack of 11.2-ounce bottles, 12-pack of 8-ounce cans and 8-ounce single cans.
"National Margarita Day is a great opportunity for margarita fans to come together and observe this unique holiday with the flavors of Cayman Jack," says Kyle Wortham, director, New Brand Platforms, American Vintage Beverage Inc. "With our precise blend of premium, natural ingredients, margarita lovers can spend more time enjoying this iconic beverage than making them."
To view Cayman Jack's celebratory video homage to the history of the classic cocktail and to share more margarita moments in honor of National Margarita Day, visit http://bit.ly/CaymanJack.
*(Brown-Forman, 2008)