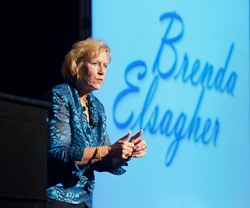 I am honored to have someone of Brenda's stature and notoriety helping us celebrate our 40th Anniversary.
Rockville, MD (PRWEB) February 19, 2014
She will make you laugh, and at times bring you to tears from laughing so hard with her comedy routine that focuses on healing through laughter in the face of adversity. Brenda Elsagher is a nationally known author, comedian, and speaker who lists as some of her hundreds of clients, the American Cancer Society, Children's Hospital, the MS Society, Mercy Hospital, in Baltimore, MD and she will be the keynote speaker at Metro Maryland Ostomy Association's 40th Anniversary Brunch and Inaugural Founders Award presentation on Sunday, March 9, 2014 at the Sheraton Hotel in downtown Silver Spring.
Metro Maryland Ostomy Association (MMOA) was founded in August 1974 by Horace and Vi Saunders and is the state and Mid-Atlantic regions largest and most tenured support group for those who live with an ostomy and/or are preparing to undergo ostomy surgery. The organization has a small office in the non-profit village of Montgomery County on Parklawn Drive in Rockville, inside the Jewish Council for the Aging Building. Among its countless accomplishments, MMOA organized and hosted the first national youth rally for children ages twelve to eighteen with ostomies.
In announcing Elsagher as the keynote speaker and featured entertainer, MMOA President Scott Bowling cited her bio in saying this highly funny, energetic woman was voted Twin Cities Funniest Person by Acme comedy club in Minnesota, Newsmaker of the year by the Women's Press and has received the Golden "Mic" (Mike) award from the American Cancer Society and the Advocacy to action award by (GYRIG) Get Your Rear in Gear organization.
Bowling said, "I am honored to have someone of Brenda's stature and notoriety celebrating our 40th Anniversary with us." While Bowling is the youngest (in age) of the organizations four presidents, he has been a member of MMOA for 34 of its 40 years of existence. Bowling has severe Crohn's Disease and had his first of 19 surgeries to date at the age of eight. He thanked Hollister, Incorporated, a manufacturer of ostomy equipment for sponsoring Elsagher and spoke of their support to the ostomy community.
Tickets to the Brunch are still available. For additional information about Metro Maryland Ostomy Association or the 40th Anniversary Brunch, you can visit their website at http://www.MarylandOstomy.org