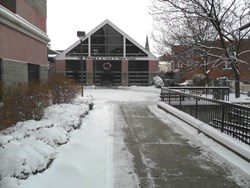 Paterson, New Jersey (PRWEB) February 20, 2014
This winter's extreme temperatures and endless snow are bringing more people into shelters, looking for a warm place to sleep and a hot meal. Eva's Village has reported that there were many days in both January and February where they have had to exceed capacity in both their Women's and Men's Overnight Shelters. The need to go over capacity began with the record low temperatures in early January and has continued somewhat with the excessive snow precipitation. "If someone knocks on our door asking for help during extreme weather conditions, we are going to make room for them," stated Marie Reger, executive director of Eva's Village. "We are not going to turn anyone away."
The Office of the New Jersey State Climatologist at Rutgers University has noted that this January ranks as the 17th coldest since 1895 (120 years) in New Jersey and the 8th snowiest on record. It is no wonder that shelters like those at Eva's Village are seeing an increased demand for housing. The men's and women's shelters at Eva's Village have a capacity for 40 and 36 respectively. On many days in January, both shelters have functioned at 105% to 125% capacity.
The sheltering programs at Eva's Village depend heavily on private donations to meet their expenses. When they go over capacity, as they have this winter, no government funding is received to assist with the extra cost. The organization continues to carry on what their founder, Msgr. Vincent E. Puma, began nearly 32 years ago, to help those in need who lack the resources to care for themselves during their time of crisis.
Eva's Village (http://www.evasvillage.org), originally a New Jersey soup kitchen, was founded in 1982 by Msgr. Vincent E. Puma in response to the increasing incidence of homelessness in his Paterson, NJ parish. But Msgr. Puma soon realized that a soup kitchen was not enough. With the generous support of thousands of donors and private and government grants, Eva's has grown to be the most respected anti-poverty program in New Jersey. Their mission is to feed the hungry, shelter the homeless, treat the addicted and provide medical and dental care to the poor with respect for the human dignity of each individual.
To donate to this NJ Charity, or for more information about Eva's Village, call (973)-523-6220, go to http://www.evasvillage.org or write to: Donna Fico, Director of Marketing & Education, Eva's Village, 393 Main Street, Paterson, NJ, 07501.