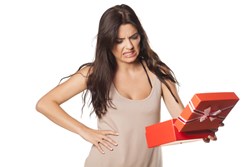 (PRWEB) February 19, 2014
On February 14, 2014, a stay at home dad left a Happy Valentine's Day sticky on a freshly cleaned toilet bowl for his wife; a high school teacher. Though happy for the sparkling toilet, she wasn't sure a clean toilet bowl was enough of a Valentine's Day Gift. Wanting to settle the score, she posted her question on Tellwut's online survey forum and found that by less than a percentage point, people agreed that a clean toilet bowl did not make the grade.
Some comments from online panel members in support of the husband were:

I would rather have something like a "nasty" chore done and a little note than any of the commercial hoopla stuff.
Considering my bf doesn't do anything, ever, I'd be happy with it.
Maybe he is so busy keeping house that he couldn't get flowers.
Other's disagreeing with the husband's expression of love said:

The stay at home parent should be cleaning the toilets anyway.
He's fired!
Tell him he did such a great job, he can do it from now on.
More surprising was that this question ended up in almost a split tie, showing that gestures of love can make the grade over commercial gifts of flowers, chocolates and dinners out. Whether people received commercial gifts or not, another online survey found that 47% were happy with their Valentine's Day, 17% said it was okay and 9% were disappointed. As one member aptly put it – "My husband and I have been married for 55 years, he gave me a bunch of flowers from the grocery store and I gave him a handmade card, which he loved, we don't have much money but we do have lots of LOVE!"
About Tellwut® Tellwut is a North American online community of individuals dedicated to expressing their opinions through online surveys based upon a wide variety of topics in exchange for rewards and the Tellwut community experience. The Tellwut community and proprietary online survey and reward software application provide a platform for organizations to send surveys to their stakeholders or to crowdsource and conduct online market research through the use of the Tellwut survey platform and the Tellwut Community; thus allowing businesses a clearer understanding and insight into their products or services, customer sentiment and potential business opportunities.