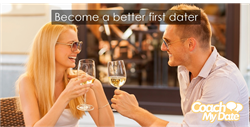 "We believe online daters will find so much value in the features we're building into Coach My Date," Marco Recio, CEO
Chicago, IL (PRWEB) February 19, 2014
Does this sound familiar? You spend weeks getting to know someone online only to go on a date and realize there is no spark. Or, you go on a fun date but days later you're unsure if you're dating partner would like to go on a second date.
Coach My Date Co-Founder Marco Recio believes this is a common occurrence and that these are the types of problems many daters are currently facing.
"In the current online dating world, people spend nearly 12 hours per week browsing through profiles and messaging each other before actually meeting up in person," Recio explains. "And after their big date, their dating service, which was so critical in facilitating communication before the date, offers them little to no aide into sharing feedback about how the date actually went."
Recio and fellow Co-Founder, Michael Rasoulian, created Coach My Date to address these issues. CoachMyDate.com is the first dating website that offers members the opportunity to be set up on dates with someone compatible and share feedback with each other afterwards about how it went. It's a patent-pending process that Recio believes takes the stress and confusion out of dating. "Dating is supposed to be fun. You're meeting someone new and seeing if you have a mutual connection. We created Coach My Date so our members can enjoy the fun parts of dating and let us make everything else easier."
While many new dating sites continue to be introduced into the market, most are niche sites that follow the same format as their larger counterparts. That format is a membership model that allows members to meet each other online, communicate, and set up their own dates if they'd like to meet in person. As more people continue to try dating online and as consumer demands evolve, opportunities exist to offer new formats into the online dating market - formats that are more active and connecting to members.
That is what Recio is aiming to achieve with Coach My Date. When members sign-up with the website they fill out a questionnaire about themselves and what they're looking for. Then they update their availability and select what type of date they'd like to go on (they can choose from dinner, drinks, or an activity). The service then matches them up with a compatible member, sets up the place and reservations, and its up to each member to confirm or decline. After the date, members go onto the website and complete a questionnaire about how the date went and if there was a spark. After both members have completed the questionnaires, the feedback is shared between both members. It's free to sign-up and members are charged $15 per date.
"There is so much value in the feedback after the date," Recio explains. "These days with texting, and messaging, and social networking, it's difficult to know where you stand after a date. With the questionnaire it helps center the communication. Both people can get on the same page and also learn a little about how they present themselves on a first date. If there's a spark, that's great. And if not, its okay because now you know. You can learn a little from the questionnaire and meet someone else."
Recio and Co-Founder Rasoulian plan to add additional features to the feedback process after launch. One feature is to connect the feedback members receive to information from their personal profile - to enhance the value of the feedback. Another is a feature that will allow the site to utilize feedback from prior dates to assist in setting up members with more compatible dates in the future.
"We're a firm believer that consumers' demands evolve in every market," Recio explains. "And we believe online daters will find so much value in the features we're building into Coach My Date."
About Coach My Date
Coach My Date is based in Chicago. It is nearing a beta launch of its service in Chicago. After completion of the beta launch, Recio and Rasoulian plan a broader launch in the Chicago market in March 2014.