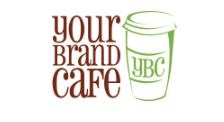 Atlanta, Georgia (PRWEB) February 20, 2014
Your Brand Café (YBC), an Atlanta based wholesale coffee supplies distributor, goes beyond cafés and coffee houses to supply churches with all of the coffee essentials.
Your Brand Café launched in 2006, and it quickly became known for helping independent coffee houses compete with their larger counterparts through fast turnarounds and low minimums on custom printed products. Since then, YBC has expanded its products line beyond printed and non-printed cups and sleeves to include other coffee necessities such as napkins, stir sticks, cup carriers, and straws. Your Brand Café also sells allied products, including Ghirardelli, Monin, Big Train, Jet, Oregon Chai, and Two Leaves.
After Your Brand Café opened, the customer base quickly expanded beyond cafés and coffee houses to include different churches throughout North America. Whether a church is looking for a small order of unprinted or custom printed cups for the free coffee served before a Sunday morning service, or the church has a full coffee bar in the lobby, Your Brand Café offers everything to fit their needs. Additionally, Your Brand Café can do one-time prints for churches that may want to add upcoming events, such as an Easter Sunday schedule, to the reverse side of the cup or sleeve from the standard church logo on the front that a church may typically order.
For more information on Your Brand Café or any of the available products or services, visit http://www.yourbrandcafe.com or call the YBC customer service experts at 866.566.0390.
Press Release submitted by Click Ready Marketing, an Atlanta SEO Company.