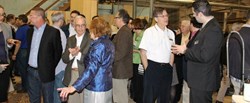 "By supporting local businesses consumers can take a direct role in helping to invest and improve their own communities." -Patrick M. Kennedy
Doylestown, PA (PRWEB) February 20, 2014
The Doylestown Business and Community Alliance (DBCA) will host this unique networking event, drawing hundreds to support and celebrate the independent businesses in and around Bucks County, Pa. The Locavore~Buy Local Networking Event will be held Thursday, February 20 from 5:00 p.m. to 8:00 p.m. in the cabinet shop at Superior Woodcraft in Doylestown, PA. All are welcome and encouraged to attend this free public event.
With the assistance of groups like the DBCA and businesses like Superior Woodcraft, people are starting to understand the positive benefits of buying local and supporting independent businesses. When you buy products and services from independent, locally owned businesses, more money goes back into your local economy. A stronger local economy improves the community by strengthening schools, creating little league sports programs for our youth and improving roads, other local infrastructure and public assets, such parks and recreation areas.
The Locavore~Buy Local Networking Event, which is expected to bring in more than 400 members of the community, spotlights an array of locally grown and produced gourmet foods, beverages, and delicacies to promote the value of supporting local producers and small businesses. This is a great opportunity for local businesses to make new connections and strengthen existing business relationships, while sampling the local offerings and learning more about the exceptional quality and diversity of locally available goods, products and services.
The DBCA is a non-profit, member-supported volunteer organization that brings an active business community, local residents and government together through activities that preserve and create the pride and spirit that make Doylestown a vibrant place to live, work and visit. The members of the DBCA understand that it takes a strong local economy in order to achieve its mission.
Patrick Kennedy, VP of Superior Woodcraft says, "It is a pleasure to work with the DBCA, community members and other local companies to create an event that promotes our communities. Our local businesses and active community members contribute a great deal to the traditions and spirit that make our community a special place to live and work. The Locavore~Buy Local Networking Event not only celebrates our local businesses, but it also increases consumers' awareness of the importance of local businesses. By supporting local businesses consumers can take a direct role in helping to invest and improve their own communities."