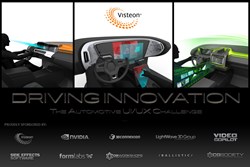 Adelaide, South Australia (PRWEB) February 20, 2014
Visteon, a leading supplier of electronics in the automotive industry, and CGSociety are challenging the world's digital artists to design the future of in-vehicle user experience. They are looking for something that will revolutionize the way people interact with vehicles.
Visteon is dedicated to being a market leader, and wants to create the best solutions for its customers. To achieve this goal, Visteon continually strives to not only work with the newest and best technology, but to apply this technology in novel ways which address the needs of consumers. This competition is artists' opportunity to work with an industry leader to imagine, innovate, and help create the future experiences that drivers will enjoy.
To address this challenge, Visteon and CGSociety are looking for:

A revolutionary design for a user interface or menu structure
A revolutionary user experience for the driver of a vehicle
A revolutionary way that users can better interact with the features in their vehicle while operating it
As a minimum requirement, artists must create an interface that enables the user to interact with information on one or more displays in the vehicle. These displays can be located in traditional or non-traditional areas, and they can use traditional or non-traditional technology. The key is that the method of interaction created is unique, innovative, and improves the experience of consumers in vehicles. At a minimum, the following information must be available for the driver:
Speedometer
Fuel gauge
Navigation/route information
Radio/music selection and operation
Climate controls
Beyond the minimum requirements, artists are free to show any additional information and use cases that they desire.
The method used to convey the concept can be any or all of the following:

Screenshots
Concept art that fleshes out the entire menu system
A fully- or partially-working and coded UI system
A video that shows, describes, and/or demonstrates the concept
Over 25,000 in prizes are on offer including, the FORM 1 3D Printer, LightWave licenses, graphics cards from NVIDIA, Houdini licenses, bundles from Video Co-Pilot, mice from 3DConnexion, and the Grand Prize - working with Visteon to develop the artist's idea into a property and to present the finished concept property at the Visteon Booth at CES, Las Vegas, Nevada in 2015.
To qualify for the grand prize, artists must create a cockpit concept (however they want to show it) that illustrates how the cockpit would look, including: what the dashboard looks like, how functions are interacted with, how information is presented to the user, and how the user would interact with the system.
The challenge will be judged by Syd Mead ("visual futurist" and concept artist, who is best known for his designs for science-fiction films such as Blade Runner, Aliens and Tron), T.C. Wingrove (Visteon Senior Manager), Royce Channey (Visteon's Senior Experience Designer).