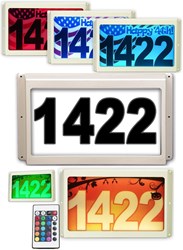 Patented MagicSign™ using color LED's and less than 1 Watt of energy produces enough light to visibly see street addresses from hundreds of feet away
San Diego, CA (PRWEB) February 19, 2014
ADVS-technologies will use funds raised by RocketHub campaign to complete the development and to release their patented Intelligent Color LED Illuminated Street Address sign called MagicSign™ into production.
The state of the art LED street address sign is patented (No. US 8,099,261). In addition, a number of patent-pending applications, including No. US 61,875,567 "Apparatus Real Time Control and Navigation System Using Networked Intelligent Illuminated Street Address and Directional Signs to Reduce Response Time of First Responders" describing MagicSignNET™ devices, were filed recently.
MagicSign™ and MagicSignNET™ are the solution to shaving lifesaving seconds and possibly even minutes off first responders' response time trying to identify the location of a crisis. MagicSign™ and MagicSignNET™, according to inventor Zack Braunstein, are intelligent LED light up address street signs that are not only aesthetically pleasing but are also a great benefit to the community.
"We all owe it to the brave man and women of our firefighting and law enforcement teams. Having an opportunity to show our support in their line-of-duty when every second counts by illuminating our street number signs, is definitely a good decision," says Braunstein. The patented and patent pending products are unlike anything else on the market. In addition to super-efficient LED's providing ParallelView™ illumination which is pleasant to a human eye, the product also utilizes Plug-n-Power™ patented DC power distribution technology, simplifying the installation.
An intelligent controller inside each unit monitors ambient light, temperature and supply voltage. The controller will automatically adjust illumination intensity to sustain operation within safety limits at all times. The MagicSign™ and MagicSignNET™ products are designed in compliance to the National Electric Code, and are configurable to comply with respective local ordinances.
"With the addition of an optional MagicBackupPower™ kit you'll always have the peace of mind that the MagicSign™ and MagicSignNET™ will be there and operational when you need them most. During a complete or partial loss of electricity they will not only continue to illuminate your street address, but also provide reasonable general illumination of the area below the sign," concludes Braunstein.
To view and contribute to the RocketHub campaign please visit:
http://www.rockethub.com/projects/39946-color-led-illuminated-street-address-signs-improving-address-visibility
About ADVS-technologies
ADVS-technologies is a startup company specializing in the development of innovative proprietary technologies with intellectual property values under regulations by the USPTO, and applicable international laws. The objective of ADVS-technologies is to provide effective and efficient environmentally friendly solutions with the intent of improving quality of services.
MagicSign, MagicSignNET, MagicBackupPower, ParallelView and Plug-n-Power are trademarked products of ADVS-technologies. It is United States patent numbers US 8,099,261 and US 8,341,837. Additional five patent pending applications are on file at the USPTO.
For more information, please visit
http://www.magicstreetsign.com/
http://advs-technologies.com/