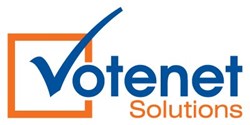 Social cues and pressure are key drivers for voter engagement and voter turnout. Social science has shown the addition of a social contract that gets voters to commit to participate increases turnout
Washington, DC (PRWEB) February 19, 2014
Votenet Solutions, the leading provider of online voting, balloting software and electioneering solutions to increase participation, will present a free webinar titled "It's Time to Commit... to Your Voting Success!" with political science professor and author Melissa R. Michelson and Votenet CEO Michael Tuteur on Wednesday, February 26 at 2:00 PM EST.
This resource packed webinar will discuss how Votenet's new Commit to Vote feature can help organizations use social science to increase voter turnout by getting potential voters to commit to vote and then follow through on that commitment. Michelson and Tuteur will offer tips to engage voters by:

Using the science behind obtaining commitments to boost participation and turnout
Creating simple, effective campaigns to remind voters of commitments
Asking for a hard commitment to vote (and receiving it)
Motivating members to make both small and large commitments
Encouraging voters to contact people they know and other potential voters
Empowering voters to set personalized reminders
"Social cues and pressure are key drivers for voter engagement and voter turnout," said Votenet CEO Michael Tuteur. "Social science has shown the addition of a social contract that gets voters to commit to participate increases turnout. The key is finding the right motivators and securing the initial commitment."
Visit https://www1.gotomeeting.com/register/813407857 for more information and to register for this free webinar.
About Michelle R. Michelson
Michelle R. Michelson is Professor of Political Science at Menlo College, one of California's top non-profit business schools located in the heart of Silicon Valley. Michelson received her Ph.D. from Yale and has also held positions at California State University - Fresno, the University of Illinois at Chicago, and Lawrence University. Her interests include state and national institutions, political behavior, voting and elections, and race and ethnicity.
Michelson is co-author of the book Mobilizing Inclusion: Transforming the Electorate Through Get-out-the-vote Campaigns.
About Votenet Solutions, Inc.
Founded in 2001 Votenet™ Solutions, Inc. is dedicated to its mission of giving everyone a voice and helping everyone make decisions. It is the trusted provider of secure, 360-degree do-it-yourself voting and balloting management software, outsourced voting and election management solutions and customized online voting solutions. Every day, Votenet helps the world's most recognized organizations, communities, and companies collaborate with stakeholders to elect new leaders, make important decisions, and set new policies. It is headquartered in Washington, DC and serves more than 2,000 customers.