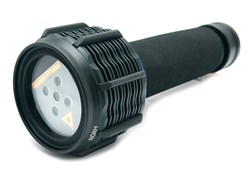 We wanted to offer a powerful and affordable blue laser system for forensic field use and for specialized industrial applications.
Vista, CA (PRWEB) February 20, 2014
FoxFury Lighting Solutions unveiled the first truly portable 5W blue forensic laser system at the AAFS Scientific Meeting in Seattle, WA. This powerful blue forensic light source weighs only 3.8 lbs, has no cords or cables and is priced for field use.
Forensic laser systems have been around for years. They provide a very powerful, single wavelength beam (available in blue, green or yellow light) that has helped crime lab personnel visualize forensic evidence. Forensic laser systems aren't typically used in the field due to their weight (20+ lbs) and high cost ($40+k).
The NOAH PL Portable Blue Forensic Laser, by comparison, is extremely lightweight, powerful and affordable. It weighs 3.8 lbs and emits 5 Watts of 445 nm blue light, which enables evidence to be seen more easily and at greater distances than non-laser forensic light sources. In addition, the light retails for $12k (USD) and comes with a carrying case, charger and orange laser goggles.
As with other blue forensic light sources, this blue laser is used to search for blood, bite marks, bruising, bones, teeth, gun shot residue and serological evidence including semen, saliva and urine.
The PL Blue laser is rechargeable, tripod mountable and suitable for lab and field use.
"We wanted to offer a powerful and affordable blue laser system for forensic field use and for specialized industrial applications," said Mario Cugini, CEO of FoxFury.
This light is patent pending and is designed and manufactured by NOAH LLC and distributed by FoxFury Lighting Solutions. The light was unveiled yesterday at the AAFS (American Academy of Forensic Sciences) Scientific Meeting in Seattle with an introductory price of $9k (USD). For further product information, please visit the Noah Systems or FoxFury websites.
About NOAH LLC:
NOAH LLC innovates portable air purifiers, room air sanitizers and personal air purifiers, which utilize HEPA filtration. These powerful, professional grade air cleaners are trusted by immunosuppressed individuals and those with allergies and asthma. They are also ideal for airplane travel, use polluted cities, medical offices, industrial settings and high threat workplace settings. NOAH LLC also offers CR123 and rechargeable 18650 lithium battery technology. NOAH LLC was formed in 1998.
About FoxFury:
FoxFury Lighting Solutions creates unique and cutting edge lighting products that reflect the needs of our customers, who demand quality and dependability. FoxFury is best known for its niche LED headlamps designed for specific markets including Fire, Industrial, Hazardous Area, Law Enforcement, Forensics and Recreational. FoxFury was formed in 2003 and operates out of Vista, CA USA. You can follow FoxFury on Twitter @foxfuryLED.