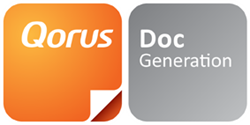 "The majority of companies we've seen have gone from a 'grassroots movement' type of implementation for SharePoint across a patch-work of divisions to rolling it out across the business as an enterprise-wide knowledge management solution," says Meiring.
Johannesburg, South Africa (PRWEB) February 20, 2014
Qorus Software (http://www.qorusdocs.com), a global provider of document automation solutions for Microsoft Office and SharePoint, continues its partner acquisition strategy as demand grows for products that extend SharePoint functionality and deliver tangible cost savings, such as Qorus Software's document automation platform for SharePoint.
Qorus Software today announced the formation of a reseller partnership with Mint Management Technologies, a South African Microsoft Partner focused on delivering innovative solutions based on Microsoft technology to improve business efficiency and accuracy across their customers' organisations.
Mint Management Technologies will serve as a reseller and implementation and support partner in South Africa for Qorus Software's flagship product: Qorus DocGeneration, the industry's first document automation solution for SharePoint.
Qorus Software has been recruiting resellers in the UK, USA and South Africa as demand for document automation for Microsoft's document management platform, SharePoint, continues to grow in these regions.
"The majority of companies we've seen have gone from a 'grassroots movement' type of implementation for SharePoint across a patch-work of divisions to rolling it out across the business as an enterprise-wide knowledge management solution," says Ray Meiring, CEO, Qorus Software. "As SharePoint takes on a higher profile within the enterprise and a larger percentage of the overall IT budget gets allocated towards SharePoint applications, business leaders are demanding that SharePoint deliver the promised productivity gains that result in significant cost savings. Solutions like Qorus DocGeneration are able to deliver these productivity gains by extending SharePoint functionality from content storage and content management to content creation."
Mint's product and services offering consists of Microsoft Dynamics CRM, Microsoft SharePoint, Mobility Solutions, Process Automation and Development of Custom Solutions.
"Mint has identified the need to partner with best of breed ISVs in order to provide customers with a holistic ECM solution portfolio. Qorus Software was the logical choice for its ease of use, Office and SharePoint coupling and clear investment model," says Francois Pienaar, Services Director at Mint Management Technologies. "What's more, their strong alignment to K2 business applications and extensive experience integrating CRM business data into document merging processes made the partnership with Qorus even more compelling."
K2 is a platform for building workflows and process-driven applications that improve business efficiency "Mint's track record in developing innovative solutions for process automation makes us confident that they can effectively communicate the benefits of document automation and successfully deliver and support our document automation solution for SharePoint," continues Meiring.
"Initial responses from our customer base have been very promising. Qorus's ability to merge content from multiple sources, including Microsoft Dynamics CRM, has allowed us to target not only our existing SharePoint and Mobility customer base, but also our class leading CRM customers," concludes Pienaar.
-------- ENDS --------
ABOUT MINT
Mint is a Microsoft, exclusive Information, Communication and Technology, business partner consisting of two operating entities namely Mint Consulting™ and Mint Mobility™.
Mint Consulting™ provides innovative solutions based on world-class technology that targets Business Efficiency & Accuracy through the provision of products (Microsoft Dynamics CRM, SharePoint, SQL, Windows Server, .NET4.0 & Silverlight, CWRMobility & Mint Mobility™ MobileServer) and solutions, assisting companies from a process and technology perspective. Our proven track record ensures Mint is seen as a leader, in South Africa and internationally. This is evident in our delivery in over 8 countries and 3 continents with multiple awards from Microsoft.
Mint's solutions not only impact office-bound staff, but also significantly deliver efficiencies into sales and field services teams by enhancing information, communication and data exchange, allowing these teams to operate in a completely mobile and real-time manner. Our unique value offering provides management control over information and governance processes to ensure your businesses achieves sustainable results through the implementation of customer management, mobility (service, sales & field force management), information access, process automation & specialised development solutions.
Mint offers products and services as individual components that fit our clients existing business systems, or we have the ability to create complete end-to-end solutions to automate our client's entire sales, service & marketing process. Mint's philosophy of close partnering and sharing risk with dynamic business partners extends to implementing a road-map that will differentiate them from their competitors and ultimately drive revenue, profit and growth for both parties.
ABOUT QORUS SOFTWARE
Qorus Software is a global provider of document automation solutions for Microsoft Office and SharePoint. We help organizations to significantly reduce the cost, time and effort required to generate highly complex customized documents while improving quality, adherence to brand principles and consistency in style and formatting.
Qorus Software can be used across all departments of your organization to generate documents such as sales proposals, legal contracts, group policies, employee or customer welcome kits, presentations, financial, compliance and advisory reports to name but a few. Organizations use
Qorus Software to help reduce human error and formatting issues, improve accuracy of content and adherence to corporate guidelines, and ensure consistency in branding and style in a fraction of the time!
Qorus Software offers one solution for all of your organization's high end, on-demand document generation needs.
The Qorus Software flagship product, Qorus DocGeneration, works within SharePoint to automate the generation and customization of business documents - specifically financial and analyst reports, contracts, policy documents, sales proposals and presentations - by dynamically merging Microsoft Word and PowerPoint templates with live data and content stored in SharePoint, CRM and other enterprise systems.
The company also offers a Sales Proposal Automation and RFP Collaboration solution called Qorus Breeze Proposals. The solution is built on the proven Qorus DocGeneration framework and adds specific sales process functionality to this robust framework, such as RFP (Request for Proposal) collaboration features, a content library, an innovative "shopping basket" for building customized proposals from approved, re-usable sales content, and a social widget that enables users to suggest good content for inclusion in the content library and for future re-use.
Qorus Software is a Microsoft Partner with a Gold Competency in Application Development, customers span industries such as financial services, legal, insurance, telecommunications and IT companies. Qorus have offices in the USA, UK and South Africa.
Generate better documents and presentations faster! Visit our website to schedule a demo or contact us for more information.