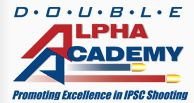 (PRWEB) February 23, 2014
The popular International Practical Shooting Confederation (IPSC) Double-Alpha Academy website was recently able to publicize some new products that are joining their seemingly ever growing list of items at their online store. These new additions to the lineup included a selection of range bags, new shot timers, and bullet feeders. The unveiling took place at a recent trade show attended by fans of many different disciplines of shooting, including those who participate in the field of practical shooting.
At the trade show the Double-Alpha Academy team was also on hand to run a range of mini-seminars and training sessions in order to give a taster to those interested in enrolling in one of their full day training seminars. These sessions are offered by Double-Alpha Academy founder Saul Kirsch who remains part of the team to this day. Kirsch is widely recognized as one of the leading figures in the sport of practical shooting. Due to this many attendees at the trade show were keen to get some tutelage from this expert marksman who has many medals under his belt from his illustrious sporting career.
"Getting to learn from Saul Kirsch in a small group was a really valuable experience" claimed one participant who attended a mini-seminar at the recent trade show. "He went over some weak hand shooting tips he had developed over his long career and then was on hand to answer some questions from those in the small group" he went on to share.
Amongst the new products that were launched was a small selection of shot timers designed for those who participate in practical shooting. These products include the CED7000RF and CED Time Keeper combination of timer equipment. During the show these items were demonstrated and a rundown of their main features were highlighted to the assembled crowd of shooting enthusiasts, journalists, and industry sales teams.
Another popular moment in the Double-Alpha Academy presentation was the unveiling of some new range bags. These bags included the new RangePack Pro IPSC shooting range bag which makes use of an integrated rain cover for keeping the equipment housed inside safe and dry in the event of rain during a shooting event. The company also provided a demonstration of the established and popular CED professional range bag, showing off its seven magazine holders and room for up to four pistols. This item drew particular interest from those in attendance thanks mainly to its compact dimensions, yet seemingly contradictory ability to store a wide range of essential practical shooting equipment.
As the sport of practical shooting and the IPSC continues to grow in popularity and visibility, the number of new products coming to market catering specifically to this market is expected to continue to increase. With a good reputation already established amongst the current generation of participants, the Double-Alpha Academy looks set to lead the way in terms of new products and training materials for the sport.