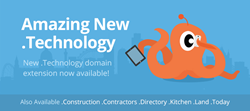 .Technology gives people in the tech community the chance to identify themselves as technology experts.
Glasgow, UK (PRWEB UK) 19 February 2014
Easyspace, one of the UK's largest domain name providers, is releasing seven new generic Top-Level Domains (gTLDs) today including the one that could become a favourite with the tech industry.
It has been reported that .Technology could be the go-to address for anyone involved with tech such as web developers, web designers as well as technology companies.
From 4pm today (19 Feb) the following seven gTLDs will be available for purchase from Easyspace at http://www.easyspace.com/domain-names/new-gtlds on a first come first served basis: .Technology, .Construction, .Contractors, .Directory, .Kitchen, .Land and .Today.
This is the third batch of domain name extensions to be issued by Easyspace through its partnership with Donuts which has signed more new gTLD contracts with ICANN than any other registry operator.
Sarah Haran, Managing Director of Easyspace, said: "So far .guru has been the most popular domain name extension going into General Availability and we fully expect .Technology to be just as popular if not even more so because of the number of people in the tech community who can benefit from identifying themselves as technology experts."
Hundreds of new gTLDs are being made available over the coming months. The Easyspace website allows you to search for and create a basket of specific domain extensions that are yet to be released.
Visit http://www.easyspace.com or call 0370 755 5088 for more details.
Easyspace is part of leading cloud company iomart Group plc which owns and operates data centres at eight locations throughout the UK.