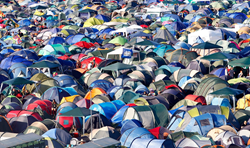 Modern camping provides great variety, with facilities covering every requirement.
(PRWEB UK) 24 February 2014
When asked to think about camping, the average person could be forgiven for associating the fresh air experience with an outdated perspective: anyone who hasn't recently set up camp in one of the thousands of British campsites is unlikely to visualise a brightly coloured landscape with a large range of tents of all shapes and sizes accompanied by touring vehicles complete with awnings and extensions.
For the uninitiated, the idea of camping is perhaps likely to conjure up vague recollections of the 1960s, complete with knobbly knee contests, triangular frame tents with leaky canvas, and Terry Scott dressed as an oversized scout. However, camping has come a long way in 50 years.
Whether pitching at a 'traditional' campsite or at a music festival or event, it's probable that the view will now hold an incredible diversity of tents in chic, fashionable colours, varying from simple pop-up tents (which, as the name suggests, are easy to pitch) to some of the large canvas palaces with separate rooms - which families and groups tend to favour nowadays.
A look at the new season's models from Danish brand Outwell quickly reveals the changes in tent design since the vintage era of 'Carry on Camping'. Based in Denmark, but known throughout Europe as a market leader, Outwell have gained a well-deserved reputation through high standards of design and construction. Their catalogue covers a selection of tents intended for all markets and all needs. These include the bold and bright colours of the Fusion range (larger pop-ups for 2-4 people), alongside vast high-end models such as the Vermont XLP and Biscayne 6, which have more restrained and elegant natural tones. Some of the more expansive 6-8 berth tents retail at over £1000, but many mid-price models offer everything the average person would need, and much more.
"Our big tent of 2014 looks set to be the Outwell Rockwell 5, a great family tent packed with features and built to last," said World of Camping's director Clay Cowie. "The Whitecove 6 also offers incredible value for money and great looks."
Wild camping is also more popular than ever, as people seek to escape the confines of everyday life by being closer to nature and getting a physical and spiritual reboot. New fabric technologies enable manufacturers to produce hardwearing materials weighing so little that a trekking tent can be easily tucked away in a backpack, and carried across moors and up mountains.
The British weather can be relied on for a good downpour at least once a week even in the hotter months, but thankfully this doesn't mean that camping is limited to heatwaves only! Technological advances and design improvements have massively increased the quality of camping as a holiday; better flysheets, sewn-in groundsheets, taped seams and double-wall systems are protecting campers from the elements better then ever.
Modern camping also provides great variety, with facilities covering every requirement. Families have a wealth of choices in fun, friendly campsites that keep the children happy, but there are also plenty of adults-only campsites with a more peaceful atmosphere. The rise of the Glamping phenomenon has also seen the introduction of sites which offer an alternative experience – yurts, tepees and eco-pods provide the best of both worlds in that they're halfway between camping and self-catered holidays, but still an authentic outdoor experience. Touring parks also provide services for caravans and campervans, for those preferring to be self-contained.
With the sheer variety of leisure lifestyles supported by the camping oeuvre, it isn't surprising that there's such a massive industry for specialist camping equipment and accessories: basic backpacking survival gear in camouflage green for disciplined outdoor enthusiasts, comfortable airbeds and cheerful camping tableware for families who like home comforts, and folding camping furniture to make the most of available storage for tables, chairs, wardrobes and larders. Portable gas stoves cover all cooking requirements from miniature backpack stoves to full family-size hobs with grills and toasters. Electrical equipment such as coolboxes can be powered from campsite hook-ups (via mobile mains supply) or in-car 12v connection, and 3-way fridges can be used with either electric or gas. Gadget freaks are also well catered for, with a range of solar powered chargers and 12v inverters allowing use of home mains devices and computer equipment.
World of Camping are an online camping retailer based in Redruth, Cornwall, offering one of the best ranges of camping equipment on the web.