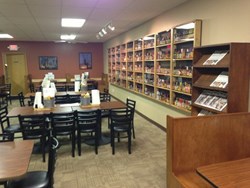 "Reversible table tops are a popular choice with restaurants across America because they look great and are very affordable."
Des Moines, IA (PRWEB) February 19, 2014
Restaurant furniture manufacturer and distributor, Affordable Seating, has helped Cactus Bob's BBQ Corral in Johnston, Iowa update their restaurant's décor with new commercial chairs, dining booths, table tops and table bases.
Cactus Bob's BBQ Corral is the vision of two best friends, Robert Prince and Craig DeDecker. Bob is a retired sheet metal worker and a self-taught gourmet. Craig is a Certified Executive Chef and Army Veteran with over twenty years of experience in the food service business.
The partners have a passion for homemade food and competition style BBQ. They started working together at the Downtown Farmer's Market here in Des Moines, selling their smoked beef jerky and Prickly Pickles. After taking a Grand Championship title in their first ever BBQ competition, the two decided to introduce their food to the public and Cactus Bob's BBQ Corral was born.
They worked for two years perfecting their rubs, sauces and recipes for homemade side dishes. In June of 2005 Cactus Bob's opened and has been bringing Bob and Craig's award-winning BBQ to the public ever since.
Cactus Bob's offers a full dine-in or carry-out menu, as well as catering options, a smokehouse menu. homemade beef jerky, and holiday specials.
The owners of Cactus Bob's turned to Affordable Seating because of its reputation for durable attractive furniture at low prices. "The owner was very happy with being able to save so much money. Also durable seating was important because this is a high traffic venue." Affordable Sales Rep. Dave M. remarked. Affordable Seating has established itself as a leader in the restaurant furniture business because of its many years of working closely with restaurants and its commitment to high quality. Many of its products are made in the U.S.A.
For seating they bought Double Wood Booth with Plain Back Standard Seat 42" in height and 48" in length in walnut finish and sell for $438. Affordable Seating's restaurant booths are made in the USA, as is most of their other furniture. Affordable Seating is reputed for its high quality restaurant booths which can be made in any shape or size. The booths can also be custom made from any material.
For additional seating, they also bought Metal Ladder Back Chairs in black frame finish and black vinyl seats. The Metal Ladder Back Chairs currently sell for only sell for only 31.50 with standard options. A matching bar stool is also available for $49.99. The commercial metal chair comes with a standard black sandblast frame finish, plastic glides and a padded seat. The frame is available in 5 different finishes. Customers have the choice of a solid wood seat or an American made padded seat made of fabric or vinyl. The wood seat is available in 6 different finishes and for an upholstered seat there are many options to choose from.
The Metal Ladder Back Chairs and Bar Stools are the most popular choices for restaurants and bars. They are stylish and versatile enough for any type of establishment. They are also very tough and durable, which makes them a smart buy.
The owner bought reversible table tops in oak and walnut finish with brown T-molding edge. Reversible table top prices start at as low as $22. "Reversible table tops are a popular choice with restaurants across America because they look great and are very affordable," said David. All of Affordable Seating's products come with a limited lifetime warranty.
To view Affordable Seating's full selection of restaurant chairs, bar stools, booths, tables and patio furniture visit http://www.affordableseating.net or call a customer service representative at (888) 495-8884.
Cactus Bob's BBQ Corral is located at 5955 Merle Hay Rd. in Johnston, IA. They can be contacted at: (515) 331-0057.