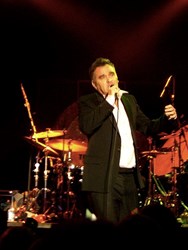 New York, NY (PRWEB) February 19, 2014
Ticket Down announces that presale tickets for Morrissey's 2014 headlining tour are now available. Special guests Tom Jones will open in Los Angeles and Cliff Richard in Brooklyn and for the other dates Kristeen Young, a singer-keyboardist that hails from St. Louis, will have the supporting artist duties. This popular concert ticket site is also extending an exclusive customer appreciation discount code, MORRISSEY-2014, which is valid for the duration of Morrissey's 2014 Tour. Morrissey's popularity began as the frontman of the popular English group, The Smiths. He later rose to stardom as a successful soloist and he is known for his unique lyrics.
Morrissey's 2014 tour dates are below:
May 7: San Jose CA City - National Civic Auditorium
May 10: Los Angeles CA - Los Angeles Sports Arena
May 13: El Paso TX - Plaza Theater
May 14: Albuquerque NM - Sunshine Theater
May 16: Salt Lake City UT - Kingsbury Hall
May 17: Denver CO - Ellie Caulkins Opera House
May 19: Lincoln NE - Rococo Theatre
May 20: Lawrence KS - Liberty Hall
May 22: Dallas TX - Majestic Theatre
May 24: Austin TX - Austin Music Hall
May 25: Beaumont TX - Julie Rogers Theatre
May 27: Memphis TN - Orpheum Theatre
May 28: Nashville TN - Ryman Auditorium
May 30: St Petersburg FL - Mahaffey Theater
May 31: Miami FL - Knight Concert Hall
June 4: Atlanta GA - Cobb Energy Center
June 6: Atlantic City NJ - Revel Ovation Hall
June 7: Boston MA - Boston Opera House
June 10: Baltimore MD - Meyerhoff Symphony Hall
June 13: Chicago IL - Civic Opera House
June 14: Flint MI - James Whiting Auditorium
June 16: Lewiston NY - Artpark Main Stage Theater
June 17: Wilmington DE - Grand Opera House
June 19: Hershey PA - Hershey Theatre
June 21: New York NY - Barclays Center Arena
Morrissey is now 54 years old and he was born in Lancashire, England to Irish Catholic immigrants. His father, Peter, was a hospital porter and his mother, Elizabeth, was a librarian. He has only one sibling, an older sister named Jackie. Over the years Morrissey remained very close to his beloved mother, however, his relationship with his father was sadly somewhat strained. As a child, his interests included girl groups of the 60's, author Oscar Wilde and actor James Dean. The "Moors Murders of the 1960's," in which a husband and wife raped and killed quite a few local children in Manchester, had a big impact on him as a child. Morrissey had natural athletic ability which helped him to not be bullied as a child although he has said that he was lonely and depressed during adolescence.
Steven Patrick Morrissey became popular as the frontman for the legendary band, The Smiths. This band was very popular amongst people in the United Kingdom but it broke up in 1987. He decided to embark on a solo career after The Smiths disbanded and he ended up on the top ten in the UK singles charts on ten different occasions. Morrissey has been regarded as one of the pioneers of indie music. The music magazine NME said that he was "one of the most influential artists ever," and The Independent gave him this amazing compliment: "most pop stars have to be dead before they reach the iconic status he has reached in his lifetime."
Morrissey is well known for his unique lyrics which often relate to topics such as relationships, burdens and loneliness. In his songs he uses a mainly baritone voice, however, he sometimes throws in a bit of falsetto. Animal rights are at the top of his list of priorities in life. His eccentric hairstyle and compelling and charismatic performances put him in a class of his own. Over the years, Morrissey has had a number of contrarian opinions which have brought upon countless media controversies. All of these distinctive features about Morrissey put him in a class of his own and this is why he is so popular around the World.
Morrissey tickets for his 2014 tour will go on sale to the general public on Friday, February 21st. Morrissey fans need to secure their concert tickets early for this legendary performer. Ticket Down is also extending a special customer appreciation promo code MORRISSEY-2014 which can be used at the checkout. All Morrissey concert tickets from this site come with a customer satisfaction guarantee and every ticket is guaranteed authentic.