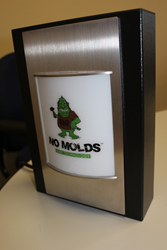 they offer a very consistent light transmittance from edge to edge of the visible light surface
St. Paul, MN (PRWEB) February 25, 2014
While partnering with DuFresne Manufacturing, a Minnesota sheet metal fabricator, Envision Plastics developed custom specialized back lit signage for Thyssen-Krupp Elevator (TK). These uniquely fabricated products helped to revolutionize the TK product line.
The most basic back lit signage models come from taking a clear plastic (polycarbonate or acrylic) and fixturing it inside an application specific custom sheet metal wall frame. However, just using clear plastic does not present the "wow" factor. What creates that is the application of white paint, digital ink (white) back printing, or even sandblasting the plastic prior to putting it up on the wall.
When applying paint, the back surface only gets painted. Numbers or letters are then added to the front to give it visual functionality. When applying digitally printed ink, again, only the back side of the plastic is printed. Numbers, letters, and other graphics including flames are also printed on the backside allowing the front to be "risk free" for durability where otherwise, impacts to the sign could affect appearance. Sandblasting the plastic is applied to every surface and gives the part a frosted appearance.
The light sources used in these applications are not simple bulbs. They are LED light mats that have an extended life and will not need to be replaced. In addition, they offer a very consistent light transmittance from edge to edge of the visible light surface.
These same methods have been applied to other customers of Envision Plastics and DuFresne Manufacturing as well. This type of signage has been put into hospital settings as well as factories for emergency lighting.