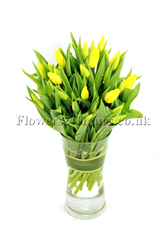 London (PRWEB UK) 20 February 2014
There are many different gifts suitable for Mother's Day, which this year occurs on 30th March in the UK; a nice breakfast, brunch, or dinner, a show at the theatre, or a relaxing spa treat. But one of the most popular and affordable options are flowers, so here London florist Flowers24Hours provides some ideas for Mother's Day flowers with meaning and introduces two beautiful new products available from its online flower shop.
There are a few key questions to consider before buying flowers; firstly, does the recipient have a favourite flower at all, and also what is their favourite colour? This is good starting point for the florist, who can then recommend a bouquet or arrangement based on this, and sending something tailored to someone's personal taste always makes for a very special gift.
It's also possible to convey certain messages with flowers too, thanks to the special meanings attributed to them. For example some great flowers for Mums include daffodils, which mean respect, irises, which mean wisdom and friendship, and lilies, which are a perfect gift for new Mums as they are very spiritual flowers and symbolise nurturing and fertility.
Below are five different flowers with meanings perfect for Mother's Day flower gifts.
1. Orchids: mean love and beauty and also make a great, long-lasting gift, to help communicate how wonderful Mum is.
2. Daisies: mean loyal love and gentleness. The perfect flower to give thanks for the loyal, unconditional love a mother provides.
3. Irises: mean wisdom and faith. To say that despite all the inevitable arguments, you respect that Mum knows best.
4. Lilies: mean nurturing and fertility and make the perfect gift for new Mums. White lilies in particular mean sweetness, making them the ideal flowers for Mothers Day.
5. Yellow tulips: mean 'there is sunshine in your eyes', perfect for loving Mums who are always bright and positive, and provide the confidence that everything will be alright.
Flowers24Hours has launched two beautiful new flower gifts for Mother's Day in the UK this year; 'Delicate Touch', a gorgeous pink phalaenopsis orchid in a glass globe vase; and 'La Boheme', a fragrant, luxuriously full bouquet of striking white lilies.
Flowers24hours is an online flower shop in the UK offering the same day flower delivery in London and the next day UK-wide. The company stocks a wide range of flower gifts suitable for Mother's Day, including daffodils, tulips, lilies, orchids and hyacinths. Plus, items such as teddy bears, wine and champagne gifts, hampers, gourmet gift baskets, chocolates and balloons can all be added in order to personalise your gift delivered online.