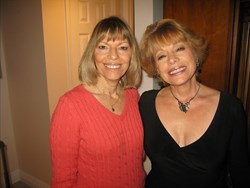 We created the Inner Circle Relationship Coaching Group as an affordable alternative to the cost and time commitment of personal coaching sessions.
West Palm Beach, FL (PRWEB) February 20, 2014
Scheduled to begin on March 6th, the Inner Circle Relationship Coaching Group is a new concept in relationship coaching. The specially designed program for single women centers on how our attitude, perception and self-confidence affects our dating and relationship experiences. Sister co-authors and relationship coaches Rosalind Sedacca and Amy Sherman created the program to guide women toward attracting the healthy and fulfilling love relationship they have always desired.
"Either I wasn't doing something right – or the way I approached dating was very wrong," says Sedacca, a Certified Corporate Trainer turned Dating & Relationship Coach. "I knew I deserved more, but all I seemed to find were boys, brutes or bores. So I started turning within to look for answers. I asked some tough questions, and over time I came upon some profound insights. They were insights about me, men, relationships and how I might have been sabotaging myself without even realizing it for all those years."
"I realized the inner work I was doing on myself was in perfect alignment with what my sister does when counseling or coaching her clients. She's a mental health counselor and when I started practicing what I was learning along with what she was teaching, relationships were no longer a frustrating or overwhelming challenge for me."
The two teamed up to write 99 Things Women Wish They Knew Before Dating After 40, 50 & Yes, 60! The book was followed by their online digital programs: DatingRescue 10-week eCourse for Women, Create Your Ideal Relationship Kit for women over forty and Mastering the Challenges of Dating: A Success Formula for Men.
Now Sedacca and Sherman are launching their first group telephone-coaching program. The eight-week program for single women includes:

A weekly one-hour Coaching call: sharing advice, insights, strategies and exercises to shift members' relationship consciousness to new levels of awareness and self-acceptance. There's also time for support, questions and other interactivity.
A weekly Inspirational Audio Message: delivered via email, it's designed to keep members motivated, excited and expectant about meeting their love partner.
A private Inner Circle Community Forum: where members can ask questions, share experiences, vent, boast and communicate with others in the group.
A recording of each week's program: so members can listen at their convenience if they missed a call or play back to hone in on valuable advice week after week.
As a special bonus, participants in the first launch group will also get a complimentary 30-minute personal coaching session – as a thank you gift.
"We're here to help single women transform their lives from the inside out in meaningful and lasting ways," says Sherman, "by providing eight weeks of coaching at a heightened level of awareness. It's the kind of awareness that shifts women to a place of growth, confidence and action. With that in mind, we have created the Inner Circle Relationship Coaching Group as an affordable alternative to the cost and time commitment of personal coaching sessions. So we're launching the program at an especially inviting low price."
The complete eight-week Inner Circle Relationship Coaching Group program, which includes group telephone coaching, exercises, inspirational audio messages, private forum access, call recordings and the bonus 30-minute personal coaching session with Sedacca or Sherman, is $197.
About the Inner Circle Relationship Coaching Group
Dating & Relationship Coaches Rosalind Sedacca, CCT and Amy Sherman, LMHC have teamed up to create a weekly group-coaching program for single women of all ages. The program includes group telephone-coaching, exercises, audio messages, a private forum, recordings of all calls and a complimentary 30-minute private coaching session with either Sedacca or Sherman. The cost of participation is $197 for eight weeks. Learn more at: http://womendatingafter40.wordpress.com/312-2.