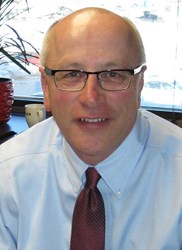 "I believe listening to clients is priority number one, because that is how we can create the best office technology solutions for them." Chuck Geary, DIrector of Major & National Account Sales
Minneapolis, MN (PRWEB) February 20, 2014
Loffler Companies announced the hiring of Chuck Geary as the new Director of Major and National Account Sales. Chuck brings more than 30 years of experience in the office technology and services industry along with a tremendous mentoring and leadership background.
Chuck spent most of his career with Xerox Corporation in the Twin Cities Metropolitan Area, beginning as a sales representative, moving into government, color production and major account sales, then into sales management and became an Account General Manager before leaving Xerox in December, 2013.
"Chuck's wealth of knowledge, experience, and leadership in the production print industry is a great benefit to our clients, as well as Loffler as an organization," said John Hastings, Vice President of Sales, Loffler Companies. "Loffler has made great gains in the production print industry and bringing Chuck to Loffler will allow us to continue to serve our clients at a level that exceeds their expectations."
With a team of eight sales representatives, Chuck is excited to build on the success of Loffler's major accounts, and mentor his group to be the best they can be. "I believe listening to clients is priority number one," said Chuck, "because that is how we can create the best office technology solutions for them. And then, we do what we say we are going to – deliver more efficiency and improve their bottom line."
Chuck is married to Mary Jo, and they have two grown sons, Max and Ryan. He enjoys all kinds of sports, especially baseball, as well as coaching, music and traveling.
Loffler Companies supports many great causes which Chuck is eager to be a part of including the Susan G. Komen Race for the Cure (Gold Sponsor), American Cancer Society, Ronald McDonald House, VEAP (Volunteers Enlisted to Assist People), Memorial Blood Centers, Cornerstone, thinkPINKkids, Feed My Starving Children, Catholic Charities, St. Joseph's Home for Children and more. A family-owned and nationally recognized leader in business technology and service since 1986, Loffler Companies has a history of giving back to the community, recently winning the prestigious Jefferson Award for Public Service.
About Loffler Companies, Inc.:
Loffler Companies is the leading business technology and services provider in the upper Midwest, providing integrated office technology and services partnered with leading brands such as Canon, Konica Minolta, HP, Toshiba, Microsoft, NEC, OCE, ShoreTel, EMC, and VMware. Providing innovative business technology and services serving the Twin Cities, St. Cloud and Central Minnesota area, and Western Wisconsin, our offerings include Multi-Functional Copiers, Printers, Managed Print Services, IP Phones and Voice Recording, IT Managed Services, Software and Workflow Technologies, and On-site Managed Services for mail rooms and copy centers. For more information about Loffler Companies, visit us online at http://www.loffler.com, or contact us at 952-925-6800 or via email at info(at)loffler(dot)com.