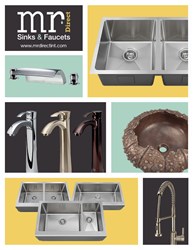 (PRWEB) February 21, 2014
MR Direct is cutting corners – for the benefit of its consumers. In its new 3/4-inch Radius line of stainless steel sinks, as the name states, the corners take a swift, 3/4-of-an-inch turn. In contrast to most models which have broad, sweeping curves; the 3/4-inch line provides a bit more interior volume and yet maintains a square appearance. When compared to the 90-degree angled sinks, the short-curve form eliminates any potential cleaning difficulties. Each model comes with the same quality, brushed-satin finish that's found on all MR Direct stainless steel sinks.
The popularity of apron, or farmhouse, style sinks continues to rise. For years, MR Direct has been offering a copper selection of these apron-style sinks. However, the material of choice for any kitchen sink is still, far and away, stainless steel. Therefore, MR Direct has developed a new line of three, stainless steel, farmhouse-style sinks to complement their four existing copper designs. Durability is assured by the heavy-duty, 16-gauge, stainless-steel construction.
The extensive line of MR Direct bronze sinks has an exciting new addition as well. Perhaps the most distinctive vanity design offered to date, the 964 is modeled after the mysterious sea urchin. The extraordinary spines, and ball and socket joints of this exotic creature are molded into the basin's exterior, while the smooth interior is both wide and deep. This pure bronze bowl will add the allure of a coral reef to any bath.
MR Direct boasts the largest expansion in its history, of its faucet selection. Eleven original models have been added. At least one new faucet is being offered in each of four categories: kitchen, bathroom, vessel, and tub/shower. The intriguing stylings range from ultra-contemporary to comfortable classic.
For the kitchen, MR Direct proudly introduces four models. Two are dual-handle designs. The 744 evokes a European air with its dramatic geometric contours, while the 7142 has graceful curves that will round out any kitchen décor. Both have a matching side-spray available. A pull-out model, the 765, is a simple, sleek, one-handle design; while the towering 766 is modeled after commercial units with a spring-encased, flexible hose.
The new bathroom selections are simple and stunning. The 728 is a widespread design that combines cylinder shapes with hard angles to create a stark contemporary look. In contrast, the new double-handle model, 754, flaunts a graceful curved design with a traditional lift rod included.
Two new vessel faucet designs have also been added, each in a tall and short version; but in two diverse styles. The 726 has a long lanky appearance with curves that expand and taper throughout. It is recognized, along with its shorter sibling, the 725, for having the longest spout span available. The 721 is the geometric option. Its hard lines and sharp angles offer an ultramodern look. The 720 is half its height, but no shorter on style.
For the tub, MR Direct has designed a most unusual option. From the graceful, seven-inch wide spout of the 719, a sliver of water leisurely cascades into the tub. The intriguing styling of this faucet is hard to resist.
The MR Direct catalog of sinks and faucets continues to expand, and the new models discussed above, as well as the existing designs, can be thoroughly reviewed at MRDirect.com.