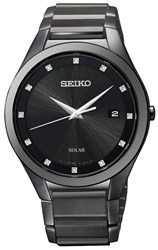 With the belief that the best watches provide the owner with an emotionally satisfying bond, Seiko designs watches that are just as fashionable as they are functional.
Tampa Bay, FL (PRWEB) February 20, 2014
BillyTheTree proudly offers its customers the full line of Seiko and Pulsar watches, already adding the latest items released by the manufacturer last month to its online collection. The new pieces are available through BillyTheTree's online store, which now encompasses nearly the full line of the brand name watches alongside the web-based jewelry retailer's large variety of unique jewelry and specialty gift items. With the new available styles more impressive than ever, inventory is expected to move fast in the coming months.
Seiko has been a longstanding manufacturer of fine clocks and watches, releasing its first timepiece for sale back in 1881. The company has been a leading manufacturer of time-telling innovations since establishment, introducing an assortment of groundbreaking products utilizing the latest technology throughout the years. Maintaining its position at the forefront of the industry, the distinguished company continues to release the most original product designs and styles, using the finest materials and latest technologies for production.
BillyTheTree shares the same commitment to quality and style as the highly renowned watch company, offering a diverse assortment of unique jewelry and fine gifts to customers who can count on the pieces to last over time. The online jewelry retailer carries all of Seiko and Pulsar's watches on its website, both owned and operated by the Seiko Watch Corporation. The founder of Seiko has promoted its wristwatches as intimate accessories that should reflect the needs and personality of the wearer. With the belief that the best watches provide the owner with an emotionally satisfying bond, Seiko designs watches that are just as fashionable as they are functional.
Technologies found in the collection of Seiko watches sold include quartz, solar, kinetic, and automatic, with each offering its own advantages to be measured based on the owner's preferences and lifestyle. Some of the available features in the collection consist of alarm, chronograph, and moon phase, amongst many other specialized functions. While all of Seiko's watches are tested before release to ensure that they will work properly after coming into contact with water, the watches are split into five designations assigned by the company based on their level of water resistance.
There is a Seiko watch suitable for every person and occasion, with a variety of features, functions, and fashions to fit any need or style. Available for men and women, the watches are cased in either stainless steel or titanium, and then crafted with a variety of finishes, from yellow and rose gold-tones to a black ion metallic. Shoppers can also select from a variety of dial colors and shapes, as well as bands available in metal, leather, rubber, and fabric. BillyTheTree even offers select styles elegantly lined with diamonds and genuine Swarovski crystals on the dial, bezel, or bracelet.
With the new additions to its line of beautifully crafted watches and clocks by Seiko and Pulsar, BillyTheTree offers the widest variety of high-quality, unique gifts that withstand the test of time. As an authorized dealer of Seiko merchandise, shoppers are guaranteed that they are receiving a 100% genuine and new product created by the respected brand name, which also includes Seiko's three year limited warranty.
To learn more about BillyTheTree, or its selection of Seiko watches and clocks, go to: BillyTheTree.com. Contact store owner Robin Weber with inquiries about BillyTheTree, or any of its specialty products.
About BillyTheTree.com
Founded in 2004 by Robin Weber when he was still a senior in high school, BillyTheTree.com offers a large variety of affordable, yet high quality jewelry, watches and sunglasses. The company carries several product lines, which include over 20,000 items, consisting of magnetic jewelry, gold jewelry, diamond jewelry, gemstone jewelry, sterling silver jewelry, jade jewelry, high performance sport sunglasses, and more. For more information, or to place an order, please visit: BillyTheTree.com.