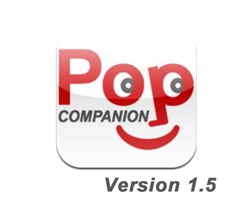 Mobile scan and fax app for iOS
New York, NY (PRWEB) February 20, 2014
The PopCompanion app for iOS is a handy tool for scanning and faxing documents with an iPhone or iPad to any national or international fax number, or to multiple fax numbers at once.
Popfax has recently updated its mobile fax application, which now supports all Apple devices running iOS from version 4.3 to 7.1.
What's New in Version 1.5.

Scanning within native Apple camera interface: iPhone and iPad users can now scan documents in Popcompanion app using the familiar interface of their native Apple camera.
Connection with Photo Library: The app is now more tightly integrated with other Apple products. Popcompanion 1.5 lets users choose images from their Photo Library and fax them right away.
Perspective Cropping incorporated in the Popfax mobile app enables users to isolate different planes within an image and crop to correct distortions caused by perspective.
Improved image Thresholding: As before, Popcompanion offers options for image processing. A major new update is the improved quality of thresholded images.
Inbox Badge Alert in the menu bar notifies users of incoming faxes. The badge number indicates the number of new unread faxes.
Improved graphic design with new icons that match the look of iOS 7.
Drag-down for manually refreshing the fax listing, to update changes and check for new faxes.
Offline Mode: The application now allows users to manage faxes and folders, contacts and groups, send faxes and SMS through PopCompanion even without an Internet connection. PopCompanion 1.5 puts actions in a queue, waiting for the next network connection to synchronize. When the user returns online, the PopCompanion mobile application will automatically synchronize with the Popfax account.
Popfax clients both professionals and businesses now have unprecedented access to their faxes, whether they are working in the office or on the road. Popfax goal is more than ever to make fax communication easier and more effective for everyone.
This update can be downloaded from the App Store.
All interested in the PopCompanion app are welcome to let the Popfax team know what they think of the update by writing a comment on our Facebook page, or tweeting @Popfax.