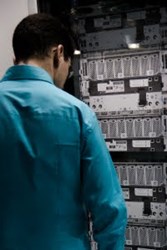 This is the arguably the most important piece of advice I can offer. All devices connected to the network should be secured and regular updates applied.
Bolton, Lancashire (PRWEB) February 19, 2014
The Bolton IT support company was formed in 1989 and still provides expert business IT support services to varied clients across the North West of England.
The vast majority of Workforce's clients do not employ their own dedicated IT professionals and rely on the Lancashire based IT support services firm to provide help and support with computer hardware, networks, backup services and bespoke software development.
Workforce Systems specialises in the development of software which works in conjunction with Sage and are experienced Sage developers.
The Bolton IT services company offers flexible and tailored contracts.
Workforce provides this kind of flexibility because not all businesses require the same services and often have unique requirements.
Mike's top ten tips:
1. Secure the network by installing a firewall
"If you have a business network with a file server and PCs you will almost certainly be connected to the internet and this is the biggest threat to the security of your systems. Most security breaches now take place as a result of users inadvertently allowing outsiders on to your company network. Just like securing your premises you can put measures in place to make life as difficult as possible for would be intruders," explains Mike.
A firewall is a hardware device that sits between the network and the outside world i.e. the Internet and is programmed to monitor all internet traffic; searching for and restricting access to any suspicious network packages.
2. Make sure the wireless connection is secured and encrypted
Most businesses now have WIFI access points to enable company staff and visitors to log on to the Internet.
It is essential that these are protected by appropriate passwords otherwise anyone passing by with a mobile device or laptop may be able to connect to the network without your knowledge.
3. Never use peer to peer file sharing on a business network
"Peer to peer file sharing is often used to download files but unless you know exactly what you a doing you may be downloading more than you bargained for. If a Trojan virus is downloaded to your network it can cause serious damage and may result in data loss and corruption which could put your entire network out of action," advises the IT support specialist.
4. Make sure anti-virus and spam filtering is installed
"You may have received spam email from bogus banks asking you to confirm your account details or foreign officials offering to send you large sums of money. These are classic examples of spam email and if you click on the link and send personal information you can be sure that moments later, someone will be trying to log into your bank account. By running spam filtering and anti-virus software you can stop these emails getting through," recommends Mike.
5. Keep the file server and PC operating software up to date
"In April 2014 Microsoft are going to cease supporting Server 2003 and Windows XP. Many businesses are still using this software and after April this year their systems will no longer receive security updates from Microsoft. This means that their networks will be vulnerable to attack via the internet. Great care should be taken when using computers running these operating systems and ideally, should be replaced or upgraded as soon as possible," said Mr. Willcox
6. Back up the file server on a daily basis
Loosing valuable data can have a devastating effect on a business. Software is available now that can automatically take backups of data at regular intervals throughout the day and should the need arise; allow the restoration of files in seconds. In the event of a complete server failure a copy of the server can be restored on to a completely different computer and be up and running again within hours.
7. Store backups off premises
In the old days it was necessary for someone to take home physical data in the form of disks or tapes and often this was forgotten or ignored leaving the company vulnerable in the event of a disaster such as a fire or flood.
Now data can be automatically sent via the internet to a secure data center for storage where the data is checked and validated to make sure no errors have occurred.
8. Regularly test backups to make sure they can be restored
"If your network fails then you must be sure that you can recover your data and get your system up and running in the shortest time possible. The only way to be sure of this is to test your data recovery procedures on a daily basis," recommends Mike.
9. Set up an effective password policy
It is essential to protect the network by setting a password policy for all network users.
"Passwords should be created to comply with rules laid down by the IT industry which ensures that they are almost impossible to decipher. In addition, users should be forced to change their passwords on a regular basis. If someone leaves the company then the user account should be deleted," said Mike.
10. Give a staff member or employ a company to make sure all security systems are updated
"This is the arguably the most important piece of advice I can offer. All devices connected to the network should be secured and regular updates applied. These updates are provided by the hardware and software vendors and are paid for on a subscription basis. Without these updates your network is almost certainly at risk," ends Mike.