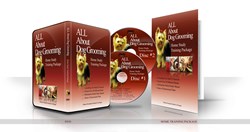 Thanks to your grooming program I feel very comfortable and confident in what I am doing.
Jacksonville, FL (PRWEB) February 20, 2014
All over the world people are looking to learn a new skill and make businesses of their own. The Doggett's began their own business from the ground up and have became wildly successful, growing their dog grooming business to multiple locations and creating multiple mobile dog grooming trailers for sale within the United States. They are now sharing their knowledge with the rest of the world by creating their own dog grooming training course.
Their dog grooming course 'All About Dog Grooming' teaches students skills they need to make their own successful businesses. Students learn a wide range of skills from the dog grooming essentials to in-depth knowledge of how to clip and treat each unique breed of animal. They will learn from the Doggett's years of industry experience and best practices. They share their own lessons on setting up a business and keeping it running smoothly, from bringing in your first customers to hiring more staff to meet a growing demand.
Their dog grooming training course consists of an in-depth spiral bound training manual and 8 hours of home training DVDs. Each chapter is accompanied by a self-driven test which allow learners to assess and benchmark their new found skills. The dog grooming course also advises its readers on how to find furry customers to practice their new skills and completes with an education of the correct trade tools needed and where best to acquire them.
Their valuable home study course in pet grooming caters to all learning styles, with its well written manual providing a wealth of information to its readers and a resource which learners and professionals alike can refer back to. The programs training DVDs share the Doggett's work with it's viewers, letting them learn how to groom over 30 different breeds as they watch and listen to the masters in action. Finally, as a bonus to the training, the learner may make use of the phone consultation or email service should they desire to confirm their new skills and tailor their learning experience to their own specific needs.
"I have obtained, to date, forty customers with only a small sign in my yard and no other advertisement. These customers have been very satisfied and some have scheduled for the future. I am excited for what spring may hold once my advertising has been circulated. Thanks to your grooming program I feel very comfortable and confident in what I am doing. I commend you on creating such a thorough and educational series. Thanks again! Says Samantha S. from Ohio
'All About Dog Grooming' is available and specially priced during their mid-winter sale now for $249.99usd.
To learn more about Richard and Carol Doggett, their story and their dog grooming training course, visit http://www.LearnToGroom.com.